At a press conference held today, it was announced that with a five-year, multimillion dollar investment, GE (NYSE: GE) is expanding its longstanding relationship with the University of Connecticut to transform the state's technology sector and spark breakthrough innovations in electrical distribution products.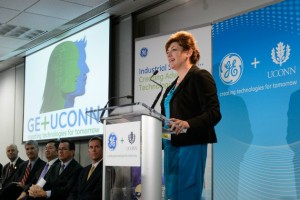 The financial support from GE's Industrial Solutions business, creator of advanced technologies that protect and control the distribution of electricity, will bring together researchers from various academic disciplines and from the energy industry to conduct research and development (R&D) on core electrical-protection technologies, including circuit breakers. As part of the donation, GE also will finance the creation of an endowed GE professorship in the UConn School of Engineering, as well as GE graduate fellowships and GE-sponsored research.
"This investment in the University of Connecticut is an important step toward creating more meaningful relationships with leading universities," said Bob Gilligan, CEO of GE's Industrial Solutions business. "The collaboration enables GE to partner with a well-respected institution to create the electrical distribution technologies of tomorrow — enabling us to bring our customers more innovative products and manufacture them in a more cost-effective way."
UConn President Susan Herbst said, "With this commitment, GE is forging greater collaboration among world-class scholars, researchers and industry leaders, which is essential to fostering innovation and strong economic growth. Cutting-edge research and education are vital to both UConn and GE as we strive to train leaders and manufacture products that will be successful in the global economy."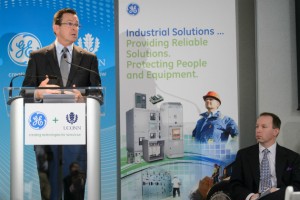 The five-year, $7.5 million GE initiative includes philanthropic support through the University of Connecticut Foundation as well as sponsorship for UConn research:
$1.5 million endowment for a GE professorship in the School of Engineering.
$2.7 million grant for graduate and undergraduate sponsorships.
Up to $3.3 million to UConn for GE-directed research in materials, manufacturing and advanced circuit breaker technologies.
The sponsored research, geared toward advancing GE's circuit breaker product lines, will focus on arc-plasma containment, electrical materials, magnetic and mechanical systems and advanced manufacturing technologies.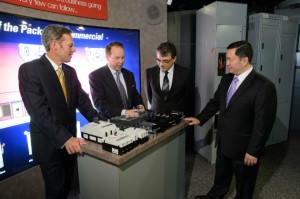 "We're excited about the opportunity to collaborate with UConn's talented engineering students and faculty to develop new electrical-protection technologies that will advance the industry," said Paul Singer, senior executive of engineering at GE's Industrial Solutions business. "We will benefit from UConn's strong R&D expertise in electrical contact and insulation materials, magnetic and thermal management and arc-physics modeling. We look forward to bringing new technologies to our customers that will provide high performance, more compact circuit breakers that provide advanced protection."
A new chapter in the long-term relationship between GE and the university, the new agreement also empowers both institutions to support the activities of the new state-funded UConn Technology Park, which is currently in development in Storrs, Conn. The Connecticut legislature recently allocated $172 million to develop the park's 125,000-square-foot anchor building for industry partnerships in advanced science and engineering. Together with UConn's new Eminent Faculty Program, these efforts will nurture activities leading to:
Innovation with industry, from startups to mid-size and large corporations.
An interface linking basic research and industrial applications.
Jobs, new business startups and economic development.
"GE's strong support will enable us to recruit and retain internationally renowned faculty and talented students to solve challenging problems in collaboration with our industry partners," said Mun Y. Choi, UConn's interim provost and executive vice president of academic affairs.
For video coverage of the event, click here.