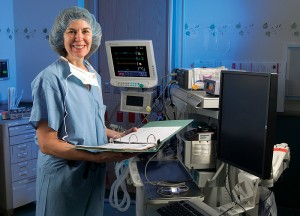 Many women worry about their risk of breast cancer and wonder what they can do to lower their risk. For women with known risk factors for breast cancer, the anxiety is even more intense.
Now, women at increased risk may be eligible to participate in a new breast cancer prevention study offered at the Health Center's Carole and Ray Neag Comprehensive Cancer Center.
The ExCel research study is an international study aimed at discovering whether a certain treatment can help prevent breast cancer. The medication is from a class of drugs, aromatase inhibitors, that suppresses estrogen production. Aromatase inhibitors are already approved to treat advanced breast cancer in postmenopausal women.
"This study is looking at a medication that is already approved to treat breast cancer and may have fewer side effects than our existing prevention drugs," says Dr. Molly Brewer, director of women's cancer prevention programs and the Division of Gynecologic Oncology.
The ExCel study will last five years and is expected to follow more than 4,500 postmenopausal women from the United States, Canada, and Spain.
To be eligible, women must be 35 years of age or older and have an increased risk of developing breast cancer. Participants will receive either the study drug or a placebo.
According to the American Cancer Society and the Neag Comprehensive Cancer Center, risk factors for breast cancer include:
Gender – simply being female increases the risk of breast cancer;
Age – the incidence of breast cancer increases with age;
Genetic risk factors – such as the inherited BRCA1 and BRCA2 mutations;
Family history of breast cancer – especially among first-degree relatives (mother, sister, or daughter);
Personal history of breast cancer;
Race – white women are slightly more likely than others to develop breast cancer;
Abnormal breast biopsy reports;
Early age at start of menstrual cycle and late menopause;
Previous chest radiation;
Exposure to DES (Diethylstilbestrol, a synthetic estrogen that was prescribed between 1938 to 1971 to help prevent miscarriages).
The study is one of several approaches Brewer and other experts at the Neag Comprehensive Cancer Center offer to help women prevent cancer. Other initiatives include genetic counseling, an innovative colon cancer prevention program, and personalized women's cancer prevention services.
"We strongly encourage all women to learn more about their unique risk factors for cancer," says Brewer. "If you are at increased risk for breast cancer, the ExCel trial could be an opportunity to participate in a study evaluating a new class of drugs for breast cancer prevention."
To learn more, call 860-679-2100 to set up an appointment with Brewer to discuss the study.