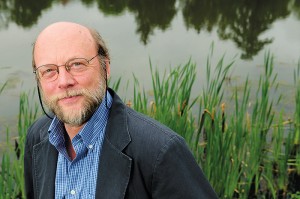 Stretching from Cape Cod to the High Plains is a freshwater galaxy of nearly 100,000 kettle lakes and ponds created by an ice sheet that existed until about 11,000 years ago.
In a new book, Beyond Walden: The Hidden History of America's Kettle Lakes and Ponds (Walker & Co., 2009), geology professor Robert Thorson provides the first authoritative treatment of this "species" of glacial lake.
Beginning in June, Thorson traveled across the northern United States from Maine to Montana, taking in all 19 kettle lake states and posting a blog about his travels dubbed "From Walden to Wobegon."
Kettles have no inlet or outlet but are natural wells fed by groundwater filtered by silica-rich, grit-free sand. Thousands dot the landscape, and many have historical, cultural, and geological significance.
Thorson is an authority on the scientific interpretation of historic landscapes, especially the emerging field of cultural geology. He has written four books, including Stone by Stone and The Magnificent History of New England's Stone Walls.
His blog postings include reflections on historic east-west literary connections between the two "W" places and anecdotes from local residents about what the lakes mean to them, interwoven with scholarly ideas from his new book to help improve management of this important freshwater resource.
"I realized that a blog would be a great way to get the word out," he says, "and to have fun while doing it."
America's best known kettle lake, Walden Pond in Concord, Mass., was made famous by Henry David Thoreau's 1854 book of the same name. Thorson suggests that Lake Wobegon, made famous by radio host Garrison Keillor, "is America's second best known kettle, albeit a mythical one somewhere in Minnesota."
Although Walden and Wobegon are more than 1,500 miles apart, there is a strong physical-ecological connection, Thorson says. The larger kettles in New England closely resemble in appearance and aquatic ecology their counterparts in central Minnesota because they share a similar origin. In addition, a historical connection between New England and Upper Midwest kettles – generally called ponds in the east, lakes in the Upper Midwest, and potholes on the prairie – stems from the east-west direction of American settlement. In 1861, Henry David Thoreau traveled to Minnesota, his only journey beyond New England.
"The influence of geology on American culture is all too often overlooked," says Thorson, noting that kettle lakes played an important but largely unknown role in American history. Pond Village Pond, in Truro, Mass., for example, is where Myles Standish and his soldiers quenched their thirst, dipping a metal kettle taken from a Native American storage mound into a Cape Cod kettle pond a "musket shot" wide.
During colonial and Yankee settlement, Thorson adds, kettle lakes were valued for beaver pelts, bog iron, refrigeration ice, cranberries, medicinal herbs, and other resources. These lakes later played an important role during 19th century exploration and immigration, especially for immigrant Scandinavians who were familiar with them from the old country.
During the 20th century, kettles were involved in the birth of ecology as a science, and the creation of a potent family recreational lake culture.
Kettle lakes should not be taken for granted, however, says Thorson. They are fragile ecosystems that are in constant tension with human overdevelopment. In essence "fossil icebergs" – the melted remnants of ice blocks – they are also repositories of ancient flora and fauna beneath the surface.
"Kettles reveal an enormous amount about who we are and where we came from," he says. "Preserving them has never been more important."