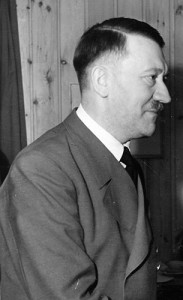 A new program on the History Channel, called MysteryQuest, dispatches teams of experts around the world to try to solve "some of mankind's strangest and most persistent mysteries."
The premiere episode Sept. 16 – "Hitler's Escape" – featured three UConn faculty: Nicholas Bellantoni, Linda Strausbaugh, and Dawn Pettinelli. Together they investigated what became of Adolf Hitler's remains in the days, months, and years after the end of World War II.
As the war was ending and Russian troops closed in on Berlin, Hitler and other Nazi officials confined themselves to a bunker beneath the city. It is widely believed that Hitler and his wife Eva Braun killed themselves in the bunker, in order to avoid possible capture. Accounts suggest that his remains were burned and buried at the site, and later moved by the Soviets to other sites in Germany in the decades after the war, but this is uncertain.
What became of Hitler's remains is still an open historical question and it was thought the answer could lie in the Russian archives in Moscow, where among other artifacts, there is a piece of human skull with a bullet wound that the Russians say is that of Adolf Hitler.
The History Channel brought Bellantoni on a fact-finding mission from Germany to Moscow in search of evidence. He conducted an exploratory dig through a patch of earth where Hitler's remains were said to have been reburied by the Soviets in the decades after World War II, searching for bone fragments. He also gained access to the Russian national archives, where he reviewed documents related to the Soviets' handling of Hitler's remains, and examined and gained DNA evidence from blood and bone fragments the Russians have said for decades belonged to the Nazi dictator.
In addition, Pettinelli conducted tests on the soil samples and Strausbaugh and her team conducted DNA testing on swabs of blood and skull fragments. The results of these tests showed definitively that the skull fragments did not belong to Hitler.
Bellantoni is a professor of anthropology at UConn as well as the state archaeologist at the Connecticut State Museum of Natural History; Strausbaugh is the director of the Center for Applied Genetics and Technology in the Department of Molecular and Cell Biology; and Dawn Pettinelli is manager of the Home and Garden Education Center and Soil Nutrient Analysis Laboratory.
The Connecticut State Museum of Natural History, Connecticut Archaeology Center, and Center for Applied Genetics and Technology are part of the College of Liberal Arts and Sciences at UConn.
UConn's Home and Garden Education Center and Soil Nutrient Analysis Laboratory are part of the Department of Plant Science in the College of Agriculture and Natural Resources.