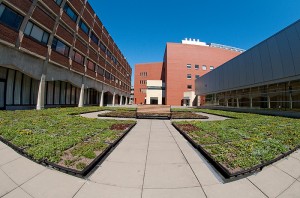 The University has its first "green" roof – a garden of more than 300 raised beds of sedum and other flowering plants installed on 3,600 square feet of a plaza at the Edward V. Gant Complex.
The installation was constructed Sept. 2 by a group of faculty, staff, and students.
The garden, which is intersected by a walkway and includes refurbished benches, will provide a fertile area where faculty researchers can analyze whether environmentally friendly roof gardens actually display the abundance of positive properties they are said to offer.
"Green roofs have been around for centuries," says Jack Clausen, a professor of natural resources and the environment and co-principal investigator on the project. "They're predominant in many areas of Europe. But the concept is fairly new in the United States – maybe 10-15 years – and there hasn't been a lot of research, especially in the Northeast."
That's about to change. Clausen, Allison MacKay, an associate professor of civil and environmental engineering and co- principal investigator with Clausen, and Joe Bushy, an assistant professor of civil and environmental engineering, plan to study virtually every property environmentalists attribute to green roofs, including whether it will actually reduce runoff; whether it will improve the quality of atmospheric deposition of water; whether it will reduce the presence of metals in the air above the garden, including mercury; and whether it will help regulate the temperature in the building beneath the garden.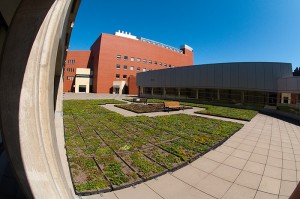 The amount of runoff the garden prevents will be key.
"The average rainfall in Connecticut is four inches per month," says Clausen. "Prior research shows that a green roof can prevent up to 60 percent of rain from leaving the roof. That's huge. But the research hasn't been done in New England. We're interested in Eagleville Brook, and the total maximum daily load of rainfall that drains into the brook."
The project is supported by a $50,000 grant from the Environmental Protection Agency and the state Department of Environmental Protection. The park benches were purchased through the Green Campus Fund at the UConn Foundation.
On Sept. 2, a group of about 30 students, mostly members of the EcoHusky student group and the student chapter of the Soil and Water Conservation Society, along with residents from UConn's new environmental learning community, EcoHouse, carted the 334 modules of plants from the area in front of the BioPhysics Building to the adjacent plaza on the Gant Complex. They then assembled the two foot by four foot plastic trays into the design created by John Alexopoulos, an associate professor of landscape architecture.
Each planter is filled with one of 10 varieties of sedum, a plant that flowers during the summer and fall and offers a range of colors. The sedum for the UConn project grows to a height of about four inches, Clausen says. The plants are drought tolerant but must still be maintained, a task that members of the two student clubs plan to embrace.