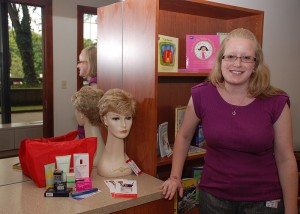 When people hear that they have cancer, their world stops in its tracks. But not for very long. Soon they must make decisions regarding their care, cope with an overwhelming abundance of information, and begin to plan for their cancer treatment journey. Numerous doctors' appointments often supersede work or other commitments, and family and friends become more important than ever.
To ease the stress and to offer guidance and support, the UConn Health Center has a patient navigator, Pamela Nixon, in the William Raveis-American Cancer Society Patient Navigator Program.
Patient navigators serve as personal guides. With training from the American Cancer Society, they are looked upon as problem solvers, patient advocates, and the connection to helpful resources for patients and their families. The program is one of more than 145 American Cancer Society Patient Navigator Programs nationwide. Nine are in New England, with two in Connecticut, including UConn's.
Through her role as patient navigator, Nixon helps connect patients to free resources and local assistance. She helps find answers to questions about financial and insurance needs, assists in locating support groups, helps find resources for financial aid, offers free wig or prosthesis fittings, arranges transportation, and more.
"My role as a navigator is part of the comprehensive team effort that cancer patients receive at the Neag Comprehensive Cancer Center," Nixon says. "I let patients and their families know that I'm not only a source of information but I'm also here just to talk, see how they're doing, and offer support. No one should face cancer alone."