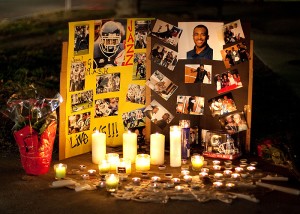 Thousands of people from across the nation are filling Facebook sites with condolences and memories of Jasper Howard, a UConn football player who was killed early Sunday morning on Hillside Road.
"God bless the Howard and UConn football families," wrote a University of West Virginia football fan in a typical post on the UConn athletics website. "You are in the prayers of all Mountaineer fans. Look forward to seeing you in Morgantown this weekend [the Huskies play WVU Saturday at noon]. Take care and remember that your Big East brethren are thinking of you."
At another Facebook site, Help Find Jasper Howard's Murderer, set up by an Undergraduate Student Government officer, nearly 7,400 members had joined by Tuesday afternoon, as the outpouring of sympathy and condolences continued.
Plans were being finalized for a candlelight vigil at 6 p.m. Wednesday on the Student Union Mall. A platform will be erected for speakers, and mourners will march to Mirror Lake following the formal event to place candles around the water. Thursday and Friday have been declared Days of Reflection at UConn. Tables will be set up in the Student Union Lobby with cards available for people to leave notes of remembrance that will be delivered to Howard's family.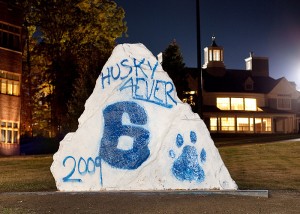 And a UConn sophomore, Brien Buckman, and his roommate are creating a student organization whose sole purpose will be to raise funds for Howard's family and a college scholarship for his unborn child. Their effort is being coordinated with the Undergraduate Student Government, the Student Union Board of Governors, and the African American Cultural Center. The fund is expected to be in place by Wednesday, Oct. 21.
On Saturday, Oct. 24, the UConn-West Virginia football game will be televised at noon in the Student Union Theatre, and West Virginia officials have said they're planning a brief ceremony in Morgantown before the game. UConn football players will have Howard's initials emblazoned on their helmets.
In Storrs, the University's Counseling and Mental Health Services are available to counsel any student who needs help, and an Employee Assistance Program (EAP) is available to discuss the tragedy with any faculty or staff who seek grief counseling. On-site counseling sessions also are available on a departmental basis upon request. Faculty and staff may contact the EAP office directly at (860) 679-2877 or toll free at (800) 852-4392. Vicki Fry, from Human Resources, can be reached at (860) 486-0411 to help departments schedule on-site sessions.
Additionally, Mental Health Services is offering a website regarding grief reactions related to the community's loss. Faculty are encouraged to read Responding After A Tragedy: An In-Classroom Guide.
A formal memorial service will be announced as soon as possible.
Meanwhile, UConn police say their investigation is progressing into the slaying, which occurred moments after about 300 people attending a dance in the Student Union were evacuated when someone pulled a fire alarm. Police have interviewed dozens of people and reviewed a range of photos and videos taken that night on cell phones by people in the crowd. Maj. Ronald Blicher has asked that anybody who has photos or information bring them to police, noting that "no image is insignificant."
Police can be reached at (860) 486-4800 or on the Tip Line at (860) 486-4444. The task force investigating the stabbing can also be reached at CrimeAlerts@uconn.edu.