Avon residents Richard and Jane Lublin have made a major gift to support a cancer researcher and clinician at the UConn Health Center who provided hope, optimism, and encouragement through Mrs. Lublin's struggle with cancer.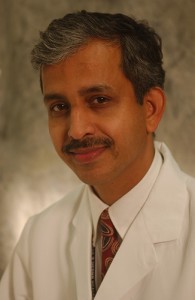 Dr. Upendra Hegde of the Carole and Ray Neag Comprehensive Cancer Center at the Health Center is credited by the Lublins for his clinical care, personal concern for Mrs. Lublin, and ongoing research efforts.
"Dr. Hegde is really a miracle worker, and gave us hope in the darkest days of our six-month fight with a horrific malignant metastatic cancer," says Richard Lublin. "He was unbelievably kind, caring, and compassionate. From the day we discovered Jane's cancer, he offered encouragement that we would win this battle."
A research expert and clinician who specializes in immune-based treatment of melanoma and the interaction of the aging immune system and cancer, Hegde says that private support like that from the Lublins can make all the difference in today's research funding environment.
"Private support is a very important piece of the puzzle for us to do the basic framework of research and then approach the National Cancer Institute or other organizations for additional funding. The ability to generate preliminary data is critical, so we can highlight research areas that seem especially promising."
Hegde says that melanoma is a particularly difficult cancer to treat, not only because it isn't one single disease, but also because of its unpredictability and the lack of medication specifically developed for it. Once it is diagnosed, therefore, clinicians devote most of their efforts to preventing the cancer from progressing further. Early diagnosis becomes key to successful future treatment. Hegde says it is one of the fastest-growing cancer diagnoses among America's aging baby boomers, and is an area of particular research interest for him.
"As we got older, our immune system gets weaker," he says. "Perhaps demographics are actually driving the increase in melanoma that we're seeing. We are trying to focus on the effects of aging on the immune system, and learn why some older patients do more poorly than others. One of the big questions for us is, 'Can we stimulate the immune system in a way that may be an advantage for older patients?'"
Hegde hopes that in five years there will be a better understanding of the relevance of the immune system in melanoma, and a way to more easily identify patients who would benefit from immune-based treatments. He says many older patients are not included in today's clinical trials, causing the field to possibly "miss an important segment of potential patients."
He believes that immunology research at UConn conducted by Drs. Bijay Mukherji and Pramod Srivastava has paved the way for the development of a possible melanoma vaccine, and related work has led to understanding of the functioning of the immune system at the molecular level.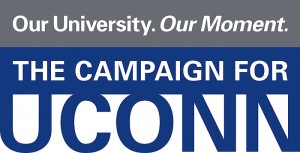 For their part, the Lublins say they'd like their gift to spark interest in similar contributions from others affected by cancer, and see this as a first step in hopefully preventing the disease through treatment and early intervention efforts.
"We hope this gift encourages others to contribute, because no one really knows when they themselves might need care like we received," says Richard Lublin. "Together, we can advance research to new levels in our efforts to eliminate cancer."
For more information about supporting the UConn Health Center, please contact Dina Plapler, vice president for development, at (860) 679-8077 or dplapler@foundation.uconn.edu.