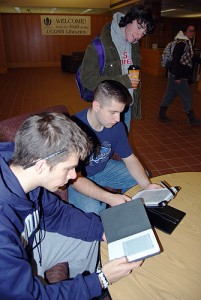 Homer Babbidge Library is more than just books. In an effort to keep pace with state-of-the-art technology used in research and teaching, the Library is offering students and other members of the campus community the opportunity to borrow digital cameras, camcorders, digital voice recorders, new laptop computers, and the Kindle, Amazon's wireless reading device.
The new equipment is now available at the iDesk on the Plaza level of the Library.
The Kindle lending program includes four Kindles, small, portable devices about the size of a magazine; three of these are the newer DX model with a nine-inch screen, and one of them is the 2nd Generation model, with a six-inch screen.
With these devices, a book can be requested, downloaded, and made available for checkout within minutes. Kindle readers have access to more than 360,000 books available at Amazon.com, and, with the built-in PDF reader, the Kindle also has access to more than one million books through Google. Kindles may be borrowed for two weeks, with one renewal possible.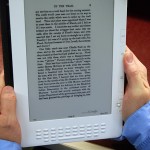 Two Canon Powershot SD1200 IS digital cameras, two Flip digital camcorders with a two-hour capacity, and three Sony digital voice recorders capable of 372 hours of recording time will be available, with a two-day loan period.
Fifteen new Dell Latitude E5400 laptops will also be available.
When the Library started a laptop loan program in March 2009, students responded enthusiastically. Initially the Library loaned donated, previously used Apple iBook laptop computers for a maximum of three hours for in-house use only. In response to user requests, the new computers may now be borrowed for 24 hours, and can now be taken outside the building.
For additional information on borrowing one of these new devices, go the Library website.