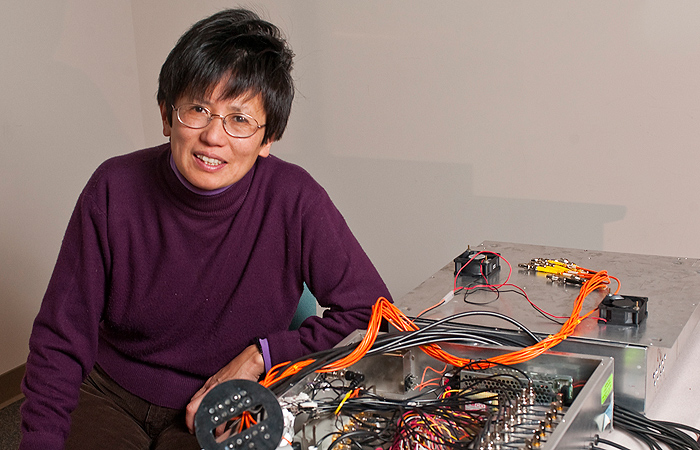 A novel imaging device developed at the University of Connecticut is showing favorable results in an expanded clinical trial and could significantly reduce physicians' reliance on breast biopsies.
The device, which relies on noninvasive light and sound waves to locate and analyze suspicious tumors in breast tissue, was tested on 178 women over a four-year period from 2004 to 2008. The study was supported by the National Institutes of Health and the Donaghue Medical Research Foundation. Patients were between the ages of 21 and 89 and the testing was conducted at the University of Connecticut Health Center and Hartford Hospital.
The study showed that the device, which uses a process called ultrasound-guided diffuse optical tomography, or DOT, had a very high rate of reliability (92 percent) in terms of sensitivity and a very high rate of reliability (93 percent) in terms of specificity when evaluating smaller cancers less than two centimeters in size. The results of the study are appearing online today (June 22) in the journal Radiology, published by the Radiological Society of North America.
"Based on our results, we believe that ultrasound-guided diffuse optical tomography holds promise as an adjunct to diagnostic mammography and ultrasound for distinguishing early-stage invasive breast cancers from benign lesions," says Quing Zhu, a professor of bioengineering in the Department of Electrical and Computer Engineering. Zhu has been working with graduate students in the School of Engineering and Health Center physicians over the past decade to refine and test the device.
"We expect this technology will be used to help radiologists evaluate small to intermediate size lesions that are harder to diagnose with conventional imaging technologies," Zhu says. "We will not completely eliminate biopsies. No modality is perfect. But we want to improve existing imaging technology so a better diagnosis can be made."
The device uses a traditional handheld ultrasound probe to pinpoint suspicious masses in the breast and near-infrared lighting projected through a series of optical fibers around the probe's periphery to penetrate and characterize the mass once it is found. The infrared light can penetrate tissue up to four centimeters, Zhu says.
Diffuse optical tomography measures light absorption within the tissue at two optical wavelengths to quantify blood content (hemoglobin levels). Since cancerous lesions tend to have many more blood vessels than normal tissue, hemoglobin levels can help distinguish malignant from benign lesions.
"This is fascinating and innovative research that will help us not only detect cancer but help us follow its clinical course and gain insight into tumor biology in a non-invasive fashion that we could not do before," says Dr. Scott Kurtzman, formerly of the UConn Health Center and now affiliated with Waterbury Hospital. "This project is also a wonderful collaboration between basic science and clinicians."
Currently, physicians use traditional mammography and ultrasound to detect questionable masses in the breast. When a suspicious mass is very small or the image isn't clear enough for definitive analysis, physicians often recommend a needle biopsy to extract samples of the suspicious tissue for further diagnostic testing. Yet, according to the American Cancer Society, four out of every five needle biopsies, or about 80 percent, reveal benign lesions that are not cancerous, resulting in unnecessary expense and anxiety for thousands of women each year.
In the UConn study, women who had suspicious lesions in their breasts were first analyzed with DOT and then given a needle biopsy. The results of each test were then correlated to judge the sensitivity and specificity of the DOT. Zhu says the DOT found both maximum and average total hemoglobin levels were significantly higher in the malignant groups than in the benign groups of tissue samples, proving its effectiveness. Laboratory examination of the tissue samples revealed two in situ carcinomas, 35 carcinomas that measured less than two centimeters, 24 carcinomas greater than two centimeters, and 114 benign lesions.
Although magnetic resonance imaging is often used for screening high-risk women or characterizing indeterminate breast lesions, DOT is less costly, faster, and an easier procedure to perform, Zhu says.
In separate results, the study also showed that DOT can be used to evaluate the effectiveness of cancer treatment. Chemotherapy is often used to shrink larger breast cancers to avoid a mastectomy. The DOT analysis appears to be detailed enough to allow doctors to see whether or not cancer cells are responding to treatment.
The DOT device has been patented. The next step is to develop multi-institution prospective clinical trials to further evaluate the device's effectiveness, Zhu says.
Collaborating with Zhu on the study were Drs. Poornima Hegde, Mark Kane, Susan Tannenbaum, Peter Deckers, and Scott Kurtzman from the University of Connecticut Health Center and Drs. Edward Cronin, Andrew Ricci Jr., and Patricia DeFusco from Hartford Hospital. Graduate students Yasaman Ardeshirpour, Chen Xu, and Andres Aguirre contributed to this four-year study. The technologists Kimberly Sokol, Brenda Cameron, and Debra Perusse of the Radiology Department, the surgical nurses Nancy Baccaro, Ellen Oliver, and Kerri Goodwin at the Cancer Center, and Sandra Trifiro at Hartford Hospital assisted with ultrasound patient scanning, patient scheduling, and patient recruiting.
University of Connecticut Health Center Communications Officer Chris DeFrancesco contributed to this article.