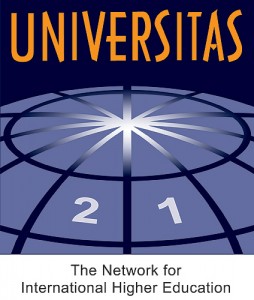 The University of Connecticut has been elected to membership in Universitas 21, an international network of leading research-intensive universities in 13 countries.
UConn is only the second U.S. university invited into the network, which comprises some of the world's major institutions of higher education, including the University of Virginia, the University of Nottingham (United Kingdom), Fudan University (China), the University of Queensland (Australia), University College Dublin (Ireland), the University of Amsterdam (The Netherlands), McGill University (Canada), the National University of Singapore, the University of Delhi (India), Technologico de Monterrey (Mexico), and Lund University (Sweden), among others.
"The University of Connecticut is honored to be included among such prestigious colleagues," said Provost Peter Nicholls. "Membership in Universitas 21 will permit our students and faculty many additional opportunities for collaboration on projects around the world."
Nicholls, who has worked with UConn faculty to increase the University's global reach and increase student participation in study abroad programs, said membership in Universitas 21 provides access to some of the best researchers and faculty in the world.
Participation in the group will increase UConn's international visibility and provide world-class international research opportunities, he said.
Membership gives UConn faculty and students access to libraries, museums, and collections affiliated with Universitas 21 members, and the chance to join a host of projects ranging from health science and psychology research to distance learning projects. Membership also gives students and faculty access to fellowships and study programs around the world, with student exchange programs offered to UConn students at each of the participating universities.
Since students will be invited to participate in conferences and other activities of Universitas 21, they will begin building international networks early in their careers. Faculty and students will also have an opportunity to contribute to international projects spearheaded by Universitas 21 on such topics as water sustainability and food security, areas in which UConn has expertise.
Founded in 1997, Universitas 21 provides its membership with collaboration and multilateral alliances that they would not have by operating independently. Its members must have a global focus, be innovative, and be research-led, comprehensive universities.
Collectively, Universitas 21 members enroll more than 650,000 students, employ over 130,000 staff, and have more than two million alumni.
Related article: CLAS Blog: The Road to Agra