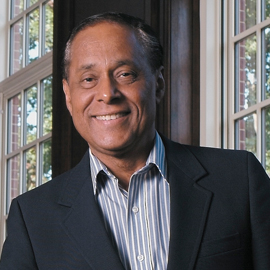 When the archives don't tell the whole story, imagination can.
Historian Roger Buckley relies not only on scholarly non-fiction to tell a story, he also uses literary historical fiction to fill in some of the missing record.
He believes this type of fiction has a "special cultural and historical centrality" in view of some of the inherent limitations of non-fiction. He believes that serious historical fiction gives history a certain "immediacy".
"The serious novel also has the ability to copy reality 'seamlessly'," he says, as demonstrated in his recently completed trilogy, Accommodation and Resistance – Three Chose Rebellion.
The novels explore the question of race, identity, gender, culture, nationality, and politics in the British Army of the 19th century through the eyes of three soldiers – each one a real historical character.
Buckley, a professor of history in the College of Liberal Arts and Sciences, explores the value of fiction as an aid to history in his History Through Fiction course, which he first taught in 2009.
Buckley describes himself as an historian of war and society. "I'm not interested in battle history – military history – even though that's an important adjunct. As a social historian, I'm more interested in looking at war directly through the lives of those who have lived through that harrowing experience," he says.
Buckley's scholarly work shows that the study of war is more than the study of battlefield conflict and has social, cultural, geographical, medical, economic, gender, legal, intellectual, and political aspects as well.
Buckley's many books and journal articles have been published in the United States, the United Kingdom, the Netherlands, India, Puerto Rico, Jamaica, and St. Kitts. He has also received research awards, among them the National Endowment for the Humanities, the John Carter Brown Library Fellowship (Brown University), the Sir William Osler Medical Library Fellowship (McGill University), the American Council of Learned Societies, the Social Sciences and Humanities Research Council of Canada, and the University of Connecticut Provost's Research Fellowship.
Buckley is the founding director of the Asian American Studies Institute and recently established a scholarship in his name for students with an interest in Asian history and Asian American studies.
"I know it sounds corny," he says, "but I wanted to give something back to my students who I have had the honor to teach over these many years."
The scholarship is also in memory of his Caribbean-born parents who stressed the vital importance of education. Buckley, who was born in New York City and grew up in Queens, joined the UConn faculty in 1984.
Buckley's courses sometimes lead him to fresh areas of scholarly pursuit. His course on the internment of Japanese Americans and Japanese Canadians during the Second World War sparked an interest in the history of Montreal's Japanese Canadian community, which came into being only after the war.
Unable to return to Vancouver, British Columbia (where the vast majority of Japanese Canadians lived prior to 1939), about 5,000 internees settled in Montreal after the war. "There was no such community before the war," he notes.
Buckley, who received his Ph.D. from McGill University and lived in Montreal for nine years, is familiar with the history of the city and has been using archives at the National Archives in Ottawa and at McGill's Special Archives Collection for his study.
In addition to the history of Montreal's Japanese Canadian community, Buckley is also writing a novel about World War II. And in his spare time, he's been working on a series of political and cultural history novels with the same central character in each: a university history professor. "Guess who that is?" he says.
Related article:
Historical Novel Explores Race, Identity, Nationality In India