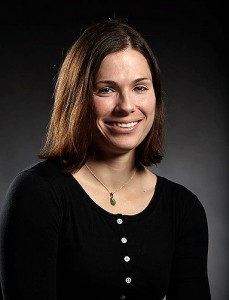 Soldiers are among those who rely most heavily on their strength and stamina to carry out their duties on the job. Tunde Szivak, a former captain in the U.S. Army, knows just how true to life this is. "In the military, so much of what you do hinges on your physical performance," she says.
With hopes of eventually landing what she calls her "ideal job" working for the Department of Defense, Szivak wants to help soldiers as well as veterans like herself maintain their physical fitness and recover from injuries.
Now a graduate student at UConn, Szivak was twice deployed to Iraq. A convoy commander during her first rotation abroad, she was responsible for keeping track of supplies such as water, fuel, and food, in addition to between 30 and 40 fellow soldiers, as they traveled on more than a dozen 18-wheeler trucks across Iraq.
Her second time in Iraq, she served as commander of a detachment, monitoring from afar the movement of military trucks across the country and tracking the goods they delivered to various military bases.
In a part of the world where, Szivak says, encountering explosives was "a constant thing on the road," it was particularly fortunate that everyone on her watch made it back home. One of her fellow soldiers did, however, endure an injury.
"I saw one of my own soldiers get hurt and what she went through in her recovery," says the 31-year-old. "It makes you think about how hard it is for some people who are put in that position." Working in a profession related to health and physical fitness, she came to realize, "You could be one of those people who is helping them get better."
With an undergraduate degree in philosophy from West Point, Szivak had no definitive plan for her future career. But when a friend in the military told Szivak about a physical therapy program to which he had recently applied, she sensed that the field might be a great fit for her.
"For me, it kind of stems from the interest in being healthy, in shape, and helping others do the same thing," she says.
After starting classes in UConn's physical therapy graduate program, Szivak soon switched her field to kinesiology, where she sees herself either doing research on ways to improve the effectiveness of military fitness programs or developing strength and conditioning programs for specialized military units.
"Injured soldiers have to find creative ways to maintain their fitness, especially those who choose to continue their service in the military," she says. "Having an effective strength and conditioning program is even more important for them."
She believes her own experience in the Army will come in particularly useful when dealing with members of the military.
"I think a lot of soldiers get frustrated when they feel people don't really understand where they are coming from," she says. "I think it helps having someone who's been there, who knows what the environment is, who knows where the person is coming from and can relate to it."
While the time she spent overseas has transformed how she sees herself and society in general, Szivak says her experiences abroad also helped shape her decision to follow this particular career path.
"I could choose to go work in corporate America for the rest of my life, making $100,000 a year," she says. "How do you justify that to yourself? It's easier to justify to myself some kind of service. At the end of the day, I can say I tried to do something in my life that contributed in some kind of way."
This is the last of four articles this week about veterans on campus.
Tuesday: Coming Home to a College Education
Wednesday: The Transition to Civilian Life