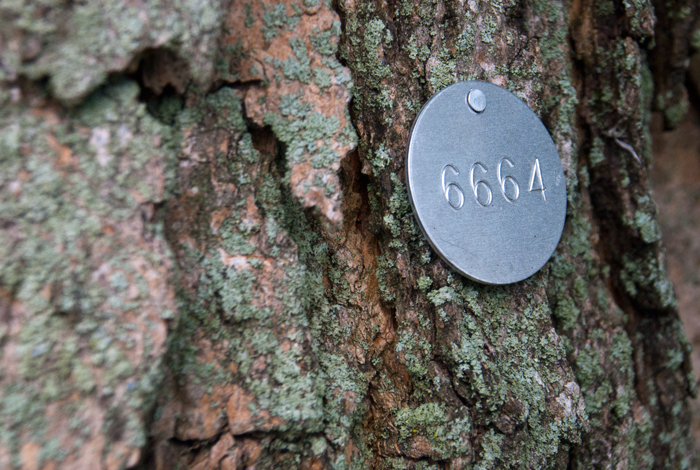 Students and faculty returned to Storrs at the end of the August to find small metal tags and green ribbons affixed to trees around campus, prompting both curiosity and some concern. Not to fear: the markers don't mean the tree is sick or slated to be cut down. Instead they are evidence of a summer-long project that was undertaken by a group of faculty and students to map more than 2,200 trees on campus, marking their exact positions and cataloguing their species.
Each tree that was part of the project has a metal plate pinned to it with a number that corresponds to a record of what species it is and where it's located on campus in a Geographic Information System (GIS), which can now show the site of every tree surveyed. Once numbered, the tree gets a green ribbon. Once plotted into the GIS, the ribbon is removed.
Having a record of the trees on campus is useful for current faculty who use them for teaching, as well as for their distant, future counterparts. It's also helpful for those charged with campus maintenance and construction projects. Knowing the location and significance of trees allows Facilities and Architectural Engineering Services to plan accordingly when it comes to everything from road realignments to the construction of new buildings, giving them a sense of what needs to be worked around.
"What we've done is create a database that can be pulled up when work is being planned," says Thomas Meyer, an associate professor in the department of natural resources and the environment who led the project. "Architectural and Engineering Services can zoom in on the location they want to see and know exactly what's there."
The students involved – William Smith, Kurt Dietrich, and Chandi Witharana – measured the circumference of the tree trunks and how far the leaves – or "crown" – extends, in addition to recording its species and mapping it.
If a tree is common and easily replaced, it may be removed to make room for a construction or renovation project. But if a tree has some special significance, whether it is its age or rarity, or the fact that it was planted in memory of an individual or a particular class, that will be taken into consideration.
"Too often we just value bricks and mortar on campus," says Greg Anderson, an emeritus professor of ecology and evolutionary biology who co-chairs UConn's arboretum committee. "But we are also distinguished as a campus because we've got a great set of plantings."
A number of trees at the core of campus – where the oldest buildings and dorms stand – are more than a century old, dating to the beginnings of the University that has grown exponentially along with them.
"This [survey] will help us to protect the living assets we have and target acquisitions when replacing trees," says Meyer.
They are also of interest to people outside UConn who just happen to like trees. Mark Brand, a professor of horticulture who also helped lead the summer cataloging effort, previously designed a walking tour of UConn's trees.
"The walk features about 40 interesting or significant trees on campus," says Brand. "This project will really help us to enhance that."
For more information on the tree walk, visit the Horticulture program's arboretum website.
Ideally, the survey will be expanded to the farther reaches of campus and may even lead to a similar project focused on shrubs and vines.
The process this summer was not without bumps along the way, however. Early on in the project, those involved noticed that a number of the metal tags they were putting on trees were being vandalized, as if someone were trying to sabotage the project by scratching the numbers off or taking the tags off the tree entirely.
"We couldn't figure out who would possibly want to scratch these little tags up like that," says Meyer.
But it didn't take long for the team to identify the vandals responsible: UConn's squirrel population.
Related stories:
Walking Tour Showcases 40 Rare Trees
Trees, Shrubs Enhance Campus, Serve as Resource for Teaching