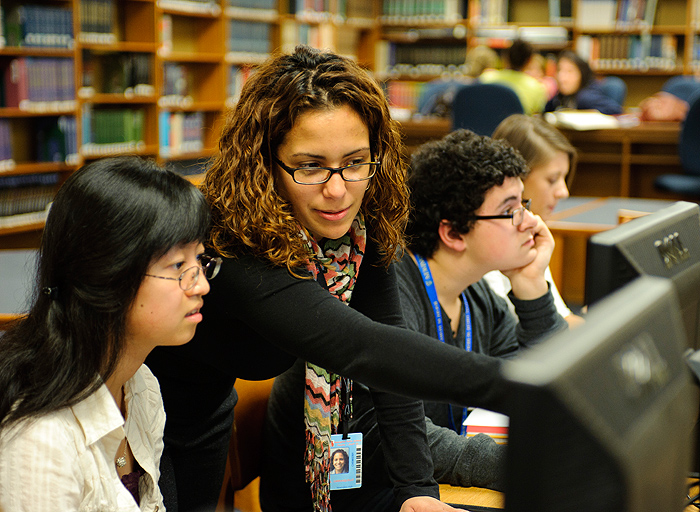 Stephanie Mather Dominello and Lorna Carrasquillo, UConn graduates now student teaching in two Connecticut high schools, have a number of things in common. Both decided that they wanted to teach after looking at other career paths. Both say teaching is much busier and more challenging than they initially expected. And both want to make a difference in the lives of young people.
They also say that winning large scholarships through the National Science Foundation's Robert Noyce Scholarship Program gave them the financial boost they needed to get into the classroom.
The award, funded by a $900,000 grant through the NSF, provides $15,000 scholarships to students who pass a rigorous application process and plan to teach in the STEM fields of either science or mathematics  – areas where there is a severe shortage of qualified teachers in the country. In return for accepting the scholarship, the students promise to teach in one of the disciplines, in a Connecticut school with demonstrated high need, for at least two years after earning their master's degree in education.
Currently, 19 students in UConn's first class under the grant are student teaching in schools across Connecticut. Next semester, the students will switch into research mode, working on questions to which the districts where they're assigned need answers. After that, it's on to the real world, as the newly qualified teachers work to land jobs in their field.
"There are places in the country where people with high school diplomas are teaching in STEM-related classrooms," says Michael Alfano, director of the program and an associate professor-in-residence in the Neag School of Education's Teacher Certification Program for College Graduates. "And there are other locations where the people teaching the STEM courses have absolutely no background in those areas. Through this program we'll be able to inject at least 50 new teachers into Connecticut's schools, teaching in areas of critical shortage, during the next five years."
Alfano says the Neag School had initially planned to issue only 10 scholarships a year for the next five years, but the pool of applicants was so strong they decided to expand the class.
"We had such a robust pool we went back to the funder – the National Science Foundation – and asked if we could expand it. They agreed," Alfano says. "Our end goal is, if we're successful, we can go back after five years and apply for an extension."
The class includes students between the ages of 22 and the mid-50s. Alfano says there are a handful of "classic career changers," several students moving through the normal progress of undergraduate degree to graduate level studies, and doctoral students who decided research wasn't their cup of tea.
One of those is Carrasquillo, who performed research during a summer internship between her junior and senior years at UConn.
"It was interesting, but really what it told me was that I didn't want to make a career out of research," she says.
At the same time, she began tutoring other UConn undergraduates in calculus and chemistry through the Q Center. Then she started tutoring for the Upward Bound Program, which helps underrepresented students gain the skills they need to succeed in college. That sold her.
"I loved it. It was one of the best experiences I've ever had," Carrasquillo says. "There are so many stereotypes about these students, but they were really interested and motivated. That's when I decided I wanted to teach, and during my senior year I observed some classes and enjoyed it."
She also is looking forward to teaching in an underperforming school after she finishes her student teaching and research project.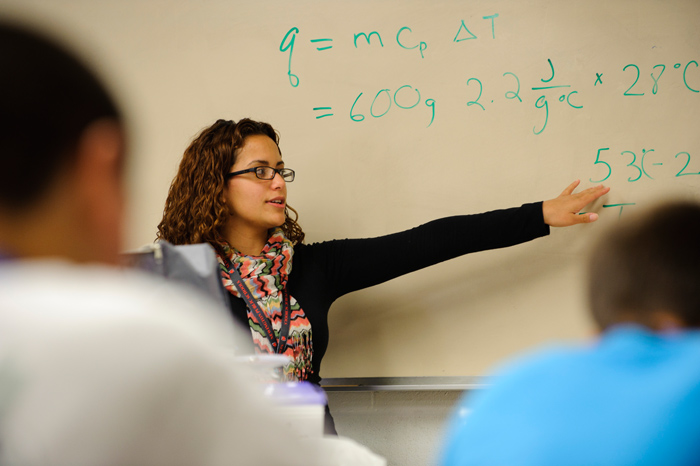 "I want to teach in a high needs school," says Carrasquillo. "I'm considering getting bilingual certification. Spanish was my first language. My sister, who is Colombian, came to America when she was 11. She spoke very little English, and I knew she wasn't getting the best education she could. I'd like to help students [who are in a similar situation]."
Carrasquillo, who is currently student teaching at Newington High School, says she would like to teach chemistry in a school where most students don't speak English well so she can help them with both the science and the language. For her second semester research project she's considering proposing a study of multicultural education, and how it can be improved.
Carrasquillo and her colleagues began their journey in May, earning 21 credits during two summer sessions.
The days and nights were intense, says Dominello. "It was pretty hard, busy, but I learned a lot and I thought it was great."
A 2001 Windham High School graduate, Dominello earned an undergraduate degree from UConn in 2005 and a master's degree in 2007, studying civil engineering with a concentration in urban and transportation engineering. She then landed a job at United Research Services, a Rocky Hill engineering firm that performed work for the state Department of Transportation. Although she enjoyed the job, she also felt the pull of education.
"I want to continue to be an engineer, but I always wanted to be a teacher," Dominello says. "I want students to see how much physics relates to our lives. I want to bring what I know about engineering to the classroom. I'd love to somehow do both, to stay in the engineering world, but I want to help people too." Dominello is student teaching at Bacon Academy in Colchester.
The grant UConn received spans several academic departments in two schools at UConn. The grant proposal was prepared by Thomas DeFranco, dean of the Neag School, and Charles Vinsonhaler, former head of the Department of Mathematics and now an adjunct professor of math in the College of Liberal Arts and Sciences. Other faculty involved in the proposal were Fabiana Cardetti, math; Juliet Lee, molecular and cell biology; and Alfano.