Simone Hill, a 2010 graduate of the School of Business, on Saturday finished just short of becoming the first student in UConn history to win a Rhodes Scholarship.
More than 1,500 students each year seek their institution's endorsement for the prestigious scholarship. This year, 837 were endorsed by 309 different colleges and universities. Of those, Hill was among 210 applicants from 88 different colleges and universities who reached the final stage of the competition.
Rhodes Scholarships provide all expenses for two or three years of study at the University of Oxford in England, and may allow funding in some instances for four years. Elliot F. Gerson, American secretary of the Rhodes Trust, says the Rhodes Scholarships are "the oldest and best known award for international study, and arguably the most famous academic award available to American college graduates." They were created in 1902 by the will of Cecil Rhodes, a British philanthropist and colonial pioneer in Africa. The first class of American Rhodes Scholars entered Oxford in 1904.
"Simone did a great job," says Jill Deans, director of UConn's Office of National Scholarships.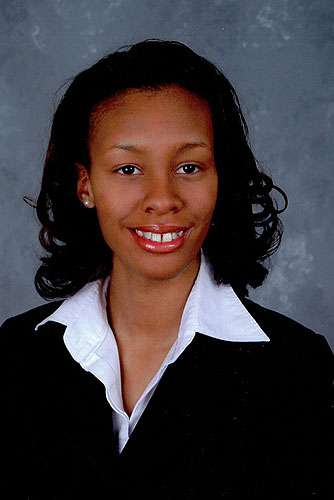 Hill, who carried close to a 4.0 GPA through her UConn career, was inducted into the School of Business Hall of Fame this spring, when she also received the Outstanding Undergraduate Finance Student Award and the National Black MBA Association Scholarship.
Her list of accomplishments and memberships at the University is lengthy, and includes terms as president of the Undergraduate Business Leadership Council and the UConn chapter of the National Association of Black Accountants. She was one of the first students to serve as an executive council member for the Honor Society of Phi Kappa Phi, and a member of Beta Gamma Sigma Business Honor Society and the National Society of Collegiate Scholars. She also was an investment manager for the Student Managed Investment Fund, which earned solid returns despite the economic downturn.
Hill also tutored more than 70 student athletes through the Counseling Program for Intercollegiate Athletics, as well as business school undergraduates.
"Her academics were certainly impressive, but I was even more impressed with her as a person and her willingness to give back and enable others to meet their full potential," says Linda Klein, a finance professor and associate dean of the business school. "She's a remarkable young woman, and has that can-do attitude she uses to make things happen."
Hill is now working as a global commodities specialist at Pitney Bowes Inc., where she interned in their finance and marketing departments while attending UConn. She has been granted deferred admission into Stanford University's prestigious MBA program.
Hill persevered through an impoverished upbringing to find success. Owing partly to her earlier struggles, her undergraduate research project focused on the causes and remedies for income disparities in minority communities. She plans to dedicate her career to financial education for minority and underserved communities in America and abroad.
Besides the Rhodes, Hill also was a finalist in this year's competition for a Marshall Scholarship.