Lisa Marcinkowski grew up as a self-described Army brat, her father often overseas, the family moving from state to state as her father's orders changed. She survived – thrived, even – and is now a program coordinator in UConn's Cooperative Extension Center in Norwich. But she doesn't miss those early days.
"When I was a child, there were very few support programs for military children," she says. "We've seen so many changes since then. As a child moving around, it was hard to understand where families fit in the grand scheme of the armed services. The Department of Defense recognized this, and programs like O:MK have evolved."
Marcinkowski is now knee deep in one of those changes, serving as program coordinator for Connecticut Operation: Military Kids, a national program devoted to keeping the children of servicemen and women connected to their deployed parent and, perhaps even more important, teaching caregivers how to recognize when these children may need help.
"We try to reach groups with a lot of interaction with children – child care providers, guidance counselors, people who would work with the children one-on-one or in groups," says Mary Ellen Welch, O:MK project director and extension educator at the Cooperative Extension Center in Norwich. "The children carry a tougher burden than non-military children. We tell people who work with youth to look for children who never had a behavioral problem suddenly acting up, or a student with good grades whose work starts to slide. While many children with deployed parents manage very well, it's good for the kids to know somebody else understands."
In Connecticut, the number of children with parents in the service numbers nearly 10,000, including the many National Guard and Reserve units from the state who have been deployed to Iraq or Afghanistan. There are children affected by the wars in every city and town, Welch says.
The grant-funded program, now in its third year, has received a total of $282,000 from the Department of Defense.
Operation: Military Kids has four components:
Ready, Set, Go!, an effort to educate and create community support networks for the children and families of soldiers;
Hero Packs, backpacks filled by volunteers and designed to connect children with their deployed parent. The backpacks are age-appropriate, and include such items as stuffed animals, disposable cameras, books, DVDs (including a Sesame Street DVD that discusses when Elmo's father was deployed), and other items like stationery and journals;
Mobile Technology Labs, laptop computers and printers children can use to scan photos, create cards, or write letters that can be sent to the overseas parent;
and Speak Out for Military Kids, a youth-led, community-supported project that generates local awareness of the issues faced by military youth and their families through media projects or speaking engagements.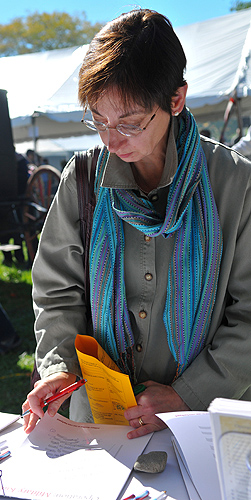 "The Hero Packs area very popular," says Marcinkowski who, among her other duties, tries to obtain donations for the backpacks and volunteers to stuff them. UConn students in a residence hall in the Northwest quad will be stuffing a stack of them Nov. 16.
Assisted by Laura Marek, also a program director and an extension educator at the UConn Cooperative Extension Center in Torrington, the group will go anywhere, anytime, to help volunteers create local support groups. Marek, Welch, and Marcinkowski, and the O:MK state team members, representatives of military and civilian non-profit organizations, have been tireless in working to spread word of the program, setting up tables and mobile labs at fairs and workshops across the state, including the O:MK birthday party Nov. 6 at the U.S. Naval Submarine Base in Groton, the Big E, and UConn's own Cornucopia Festival. They are currently planning a major volunteer training session for January.
"We try to match volunteering with people's skills," says Welch. "Can you deliver a great presentation to clubs? Are you good at fundraising, even just getting local businesses to donate? Are you able to organize groups in the community that can support military families? We're very flexible."
O:MK began seven years ago as a pilot program, expanding by several states a year since then. UConn's program began operating in 2008. Since then, Welch says, "We've since seen good growth. We've signed up new partners, new parents, the Coast Guard Academy Child Development Center, and we're working with the Boys and Girls Club of Southeastern Connecticut. It's been very positive."
And not just for the children, says Marcinkowski, the former Army brat.
"Seeing all the people reaching out to help these children has been so gratifying," she says. "It's a wonderful program."