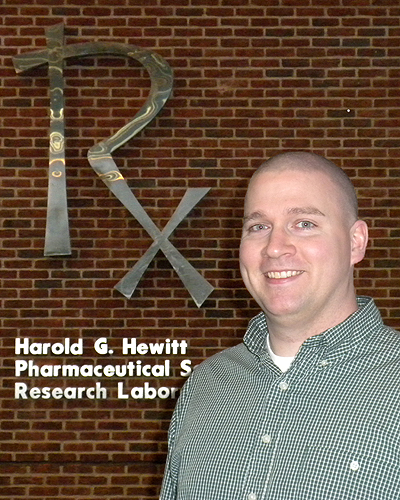 M. Kyle Hadden, assistant professor of medicinal chemistry at the School of Pharmacy and member of the Carole and Ray Neag Comprehensive Cancer Center at the UConn Health Center, has been awarded a prestigious V Scholar grant from the V Foundation for Cancer Research.
"This is the first big award for the lab and it is an honor for me to be one of those chosen," says Hadden. "It puts me in good company with other young cancer investigators, and it is nice for the researchers in the lab to be recognized for all their hard work."
Since it awarded its first grant in 1994, The V Foundation has handed out just 400 V Scholar grants to the most exceptional physicians and scientists from around the country. This year, 17 outstanding young investigators were honored with a two-year, $200,000 commitment.
"It is our hope that these funding initiatives will bring us – step-by-step – closer to discovering the causes and developing the cures for the more than 100 diseases that are cancer," the V Foundation said in announcing the grant awards.
Hadden, who works in the Department of Pharmaceutical Sciences in Storrs, was especially recognized for his work on "A Chemical Biology Approach to Understanding the Anti-Cancer Effects of Vitamin D3."
Since January 2009, Hadden's medicinal chemistry lab in the School of Pharmacy has focused on vitamin D, how it operates, and both its preventative and therapeutic effects on cancer treatment. The laboratory synthesized compounds and inserted them into either breast or colon cancer cells to observe the specific ways in which they worked to prevent the cancer from growing.
"We are trying to see if we can make new compounds to target different receptor systems that would not have the negative effects of the vitamin D receptor system," explains Hadden. "As an undergraduate, my interest in synthesis and biochemistry directed me to the field of pharmacy and how creating new compounds can lead to helping a lot of people."
The last 10 years have seen a marked increase in research aimed at the potential preventative and therapeutic anti-cancer effects of the vitamin D class of hormones, Hadden says. Most of this interest has focused on calcitriol, generally acknowledged as the hormonally active form of vitamin D. Administration of calcitriol or its analogues has resulted in significant anti-cancer effects when tested in animals with prostate, ovary, breast, and lung cancers.
These effects are primarily mediated through the vitamin D receptor (VDR), a protein that regulates normal and cancer cell growth by interacting with calcitriol, Hadden says. Unfortunately, the clinical usefulness of calcitriol and its analogues has been limited by toxic side effects associated with the VDR.
Recent studies in other research labs have demonstrated that vitamin D3, a hormonally inactive form of calcitriol, has anti-cancer potential through its ability to inhibit the hedgehog signaling pathway. The hedgehog signaling pathway plays a crucial role in human embryo development, but is largely inactive in adult tissues under normal conditions. There is accumulating evidence of overactive hedgehog signaling in the development of skin, brain, breast, prostate, colon, and lung cancers.
Finding ways to inhibit the pathway, Hadden says, represents an exciting new intervention strategy toward the development of cancer chemotherapeutics. Vitamin D3 analogues that exert their anti-cancer effects through inhibition of hedgehog signaling would be less susceptible to the detrimental side-effects associated with calcitriol and represent an improved class of vitamin D-based anti-cancer chemotherapeutics.
With this new grant, Hadden hopes to hire a postdoctoral fellow to assist with research in the lab.
"Ten years from now, I can still see my lab focusing in the area of cancer therapeutics, and I hope to continue my research at UConn doing synthesis and compound testing," he says.