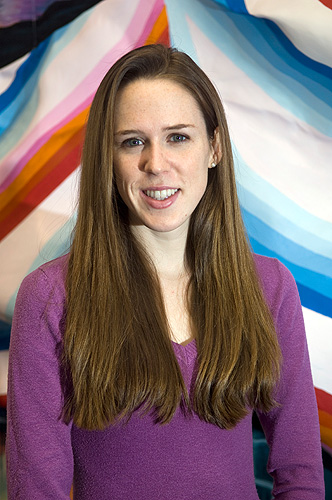 Margaret McCarthy, CLAS '11, an honors student with a double major in political science and economics, has always dreamed of working for the government. She got her chance in a big way when an internship turned into an interim post covering a country for the U.S. Department of State.
McCarthy, a senior from Ledyard, Conn., began her internship in January 2010 in Washington, D.C., working within the Bureau of Western Hemisphere Affairs. The experience brought her close to the inner workings of the U.S. government.
"On the outside, some may see the government as being bureaucratic nonsense," McCarthy says, "but it's not: the U.S. government is comparatively very efficient."
McCarthy worked for the Office of Central American Affairs, where she did research on political and economic conditions in Central America, and worked with Central American diplomats.
"Following the news was the biggest part of my day. We had to stay on top of events. For example, if something legislative – nationally or internationally – occurred, we had to know how it affected our work immediately," McCarthy says.
McCarthy was only scheduled to stay in Washington until April, but the Nicaragua Desk in the Office of Central American Affairs was going through a transition; the desk would be unoccupied for three months, and McCarthy was asked to fill in for the summer.
At first she was nervous, and a bit intimidated about holding such an important position. The Nicaragua desk officer is a job normally reserved for experienced Foreign Service officials. McCarthy had to handle more responsibility in this position than in the previous four months of her internship; and she had to put in extra work just to keep up with her colleagues.
"There were times when I definitely did not know as much about Central America or Nicaragua as the people I worked with, so I would stay late or go home and do more research," McCarthy says. "I read an awful lot from the State Department library over the three months I was on the desk."
Although her new position was daunting, McCarthy had some previous experience with international affairs. In summer 2009, she traveled to Guatemala with UConn's social entrepreneurship corps to assist with local efforts to promote and establish sustainable businesses.
During her downtime while she was at the State Department, McCarthy got to experience the political scene, meeting various politicians and ambassadors and learning about different cultures.
"I got to meet a lot of really interesting people, from Capitol Hill or other federal agencies, as well as diplomats from all over the world. I visited the Korean and Nicaraguan embassies and then the Pentagon with student tours. I also went to several of the European embassies and sampled food and music from their countries," McCarthy says.
On campus, McCarthy is a stellar student. In 2009, she received an Oaklawn Foundation Scholarship for academic excellence, honors involvement, and leadership; she is also a member of several honors societies, including Phi Beta Kappa. This year, she was a finalist for a Marshall Scholarship.
McCarthy is setting the foundation for a future in international diplomacy. She is UConn's administrative director for the Model United Nations, which hosts area conferences for high school students and engages them in research and debate around international policies. She is also a member of the Global Leadership Commission, a small group of honors students that invites global leaders on campus to speak.
Currently, McCarthy is working on her honors thesis about post-9/11 anti-terrorism immigration legislation. Her future plans include obtaining a J.D. in international law, traveling, and returning to Washington.
"I think it's important to gain that experience, especially since I want to work in international affairs," she says. "I also always wanted to go abroad, so it makes for a good excuse."