As the University counts down to Commencement, UConn Today is featuring some of this year's outstanding graduating students, nominated by their academic school or college or another University program in which they participated.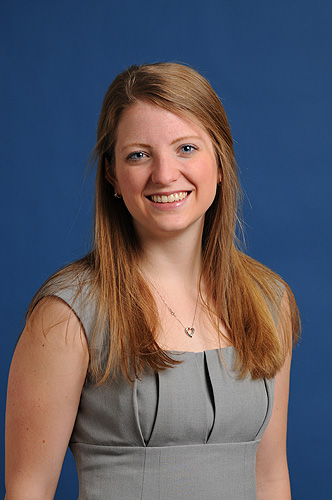 Ever since she was young, Alexandra Kuehnle has dreamed of serving her country.
"In eighth grade, I wanted to be an astronaut," she says, "but my grandfather said I had to be in the military for that. Since then, I've wanted to serve."
But Kuehnle's dream would take a different path. Although in her freshman year she signed up for UConn's ROTC program, she was later disqualified on medical grounds.
Still determined to follow her passion, Kuehnle created an individualized major in international security doubled with political science and a minor in human rights in the College of Liberal Arts and Sciences.
A resident of Durham, Conn., Kuehnle was named a national finalist for the prestigious Truman Scholarship last year, and has also been recognized as a New England Scholar at UConn for her academic achievements.
After seeing the opportunities UConn had to offer, Kuehnle found organizations dedicated to serving her country and campus. She has served in multiple leadership roles, from being the executive board chair for the Office of Community Outreach, to serving as a resident assistant for the Community Service Learning Community. She was invited to join UConn's Leadership Legacy Experience, a program that recognizes the University's most exceptional student leaders, offering them a year-long leadership enhancement experience. Kuehnle also interned with Teach for America as a campus campaign coordinator.
Joseph Briody, associate director of the Department of Student Activities, says, "Alex has impressed me not only with what she has accomplished here at UConn, but with the poise, compassion, and dedication she demonstrates when connecting with both students and staff alike."
Kuehnle also founded UConn Silver Wings, the first chapter in Connecticut. Silver Wings is a civilian organization dedicated to creating proactive, knowledgeable, and effective civic leaders through community service and education about national defense. Kuehnle currently serves as president of the new Northeast Region.
"I really know who I am now and where I want to be since coming to UConn," says Kuehnle. "My mentors here have really changed my perspectives on life. I learned to take everything as it comes and to seize the opportunities that are available."
Kuehnle hopes to work in Washington, D.C., at the state department dealing with educational policy, but for now she will be teaching in New Orleans with Teach for America upon graduation.
"Everything I've done so far has been in service to my country," she says. "Teach for America is a way for me to serve without a uniform."