As the University counts down to Commencement, UConn Today is featuring some of this year's outstanding graduating students, nominated by their academic school or college or another University program in which they participated.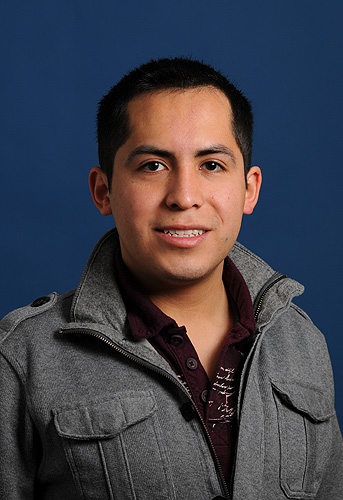 If you ask Gustavo K. Contreras why he applied to the School of Engineering when he entered UConn four years ago, you might be surprised to find that he blames his childhood toy chest.
"I couldn't have a toy growing up that would stay in one piece," says Contreras, who is graduating this semester with a double major in computer science and electrical engineering. "LEGOS, toy robots – I always took them apart to see how they worked. I guess at some level I always wanted to be an engineer, even if I didn't know it."
Contreras, a native of Peru, immigrated to the United States with his family when he was 13 years old. He attended Danbury High School, where he excelled in physics and math, and entered UConn in 2007 as an Honors student with a declared major in biomedical engineering.
But after taking two electrical engineering courses, Contreras decided to switch majors. He credits Marcel Wood, assistant dean of engineering with helping him make the decision: "I told him, 'Here's my problem: it's my junior year and I want to pick up a double major. How am I going to do that in two years?' And he talked me through it. He was a great help."
During his time at UConn, Contreras has been very involved in the engineering community on campus. He is a member of the Institute of Electrical and Electronics Engineers (IEEE), and belongs to both Eta Kappa Nu, the electrical and computer engineering honor society, and Tau Beta Pi, the general engineering honor society.
In addition, Contreras has been an active member in the Society of Hispanic Professional Engineers since he was a freshman. Moving up through the ranks, he served last year as president of the organization and is now serving as advisor to the current president.
Looking back on his time as an undergraduate, Contreras says, "There are a lot of different paths that you can take, and what's right for someone else isn't necessarily what's right for you. You have to think about what you want. Don't be afraid to make the path for yourself."
Although he is graduating in May, Contreras won't be leaving UConn: he is returning in the fall to earn his master's degree in computer engineering. He is interested in researching hardware security.