Two UConn juniors with a passion for the environment have been selected to receive a Udall Foundation Scholarship. Ethan Butler, a chemical engineering major in the School of Engineering, and Katherine Tsantiris, an environmental science major in the College of Liberal Arts Sciences, are among 80 students nationwide to win the highly competitive scholarship.
Established by Congress in 1992, the Morris K. Udall and Stewart L. Udall Foundation celebrates the 30-year legacy of the Udall brothers, both of whom represented Arizona in the House of Representatives and championed environmental reform. The Udall scholarships, which carry an award of $5,000, are open to U.S. college students who intend to pursue careers in environmental subjects, Native American health care, or tribal public policy.
The new Udall Scholars will convene in Tucson in August to receive their awards, meet policymakers and community leaders, and network with other Udall Scholars.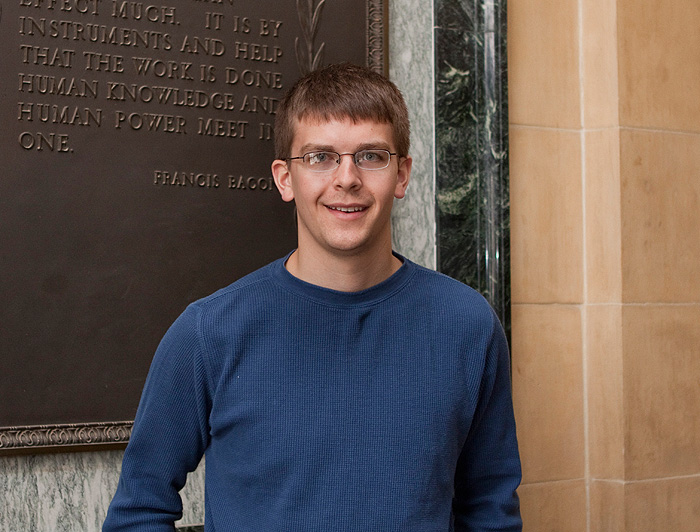 In his application, Ethan Butler said he hopes for a career in which he can apply his knowledge of chemical engineering, leadership skills, and commitment to social and environmental justice to resolve the water and energy crises. "I hope to found an organization dedicated to the development and implementation of sustainable, community-based technological solutions and complementary social programs that provide clean water and renewable energy where it is needed most," he said.
He is also considering the possibility of first joining the Peace Corps or Teach for America, so he can gain first-hand experience in organizing and motivating people, and learn more about underserved communities and how to foster team-based solutions.
Butler's environmental awareness began in his early years. His family, whose livelihood depended on dairy and tree farming, impressed upon him the need for thoughtful land stewardship. "I fell in love with the land I grew up on," he says. When a family member fell ill, some of the land was sold to cover medical expenses. The experience made a deep impression on him.
Butler enrolled in UConn's School of Engineering in 2008. He became aware of the powerful convergence of engineering, environmental conservation, and social justice through his involvement with the UConn chapter of Engineers Without Borders (EWB).
"Within EWB," he says, "I learned about 'appropriate technologies,' that is, technologies that consider the cultural, economic, political, social and other contexts of the people they are meant to serve."
He was elected vice president of the chapter as a freshman, and has served two terms as president. Under his leadership, the chapter flourished, and it now has more than 50 active student members, more than $40,000 in donations, and two core projects in Nicaragua and Ethiopia.
An important mentor is Mekonnen Gebremichael, associate professor of civil & environmental engineering, who advises UConn's EWB chapter and has conducted water research in Ethiopia for years, including participating in a multidisciplinary multi-national USAID-HED-funded project aimed at helping Ethiopia attain water security.
"I began to see that water is fundamental," says Butler. "It's a matter of survival. According to the World Health Organization, of Ethiopia's 81 million residents, 62 percent lack access to clean water, and 88 percent have no access to so-called 'improved sanitation.' … I began to see that problems such as access to clean water – so simple to solve from a technical standpoint – are extremely complex within their larger social, political, and cultural contexts, and using appropriate technologies."
The water crisis in Ethiopia is at the heart of his University Scholar research underway in the laboratory of Jeffrey McCutcheon, assistant professor of chemical engineering, who is his primary advisor. His research focuses on developing a superior water filtration process to eliminate a menu of toxic contaminants commonly found at excessive levels in Ethiopia's water, including arsenic, lead, chromium, cadmium, and other metals left over from manufacturing or from the soil itself. The filtration system he envisions will be mobile, easily maintained by community members, made from materials readily available even in rural areas, and require no electricity to operate.
In addition to the EWB chapter, Butler has been a member of EcoHuskies, ConnPIRG's Campus Climate Challenge, and the EcoGarden Club. He is an undergraduate representative on the Environmental Policy Advisory Committee, and recently joined ECOalition to develop a faculty lecture series in hopes of nurturing student interest in research-based outreach. He was named one of 29 University Scholars this year, and was selected for the competitive Legacy Leadership Experience at UConn, and also recently received a Portz Interdisciplinary Research Fellowship from the National Collegiate Honors Council to support his University Scholar research on developing appropriate water treatment technologies for the developing world.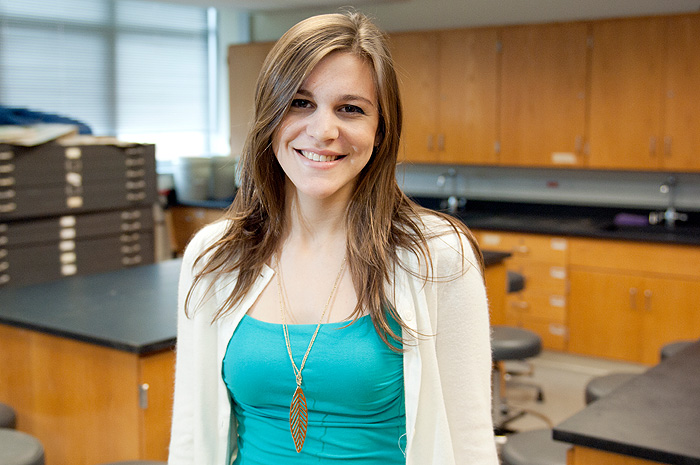 A visit to Costa Rica as a 16-year-old high school student was a turning point for Katherine Tsantiris, when she had to hike for more than an hour into a conservation area to work on a project saving turtles. The site was remote. There was no electricity, no houses, no boats, no cars.
Yet the trappings of civilization – including a car tire – were all too evident. "When I walked outside, my jaw dropped," says Tsantiris. "The beach was covered in trash. It was at that moment I realized that no matter how far from civilization a place seems, the effects of human degradation still manage to reach it.
"I walked down the beach with a new commitment to the environment," she adds. "I realized that while people are destroying it, only people can save it."
Tsantiris is not only a winner of the highly competitive Udall scholarship, she is also a member of Phi Beta Kappa, a New England Scholar, and the winner of a four-year academic excellence scholarship.
A junior majoring in environmental science with a dual concentration in marine science and resource economics, Tsantiris hopes one day to work for the National Oceanic and Atmospheric Administration's Office of Oceanic and Atmospheric Research, using science to influence public policy.
"The health of marine mammals is a lens through which we can survey the health of marine ecosystems and measure some of the most significant environmental issues we face today, from chemical pollutants in our waters to climate change," she says.
Tsantiris, who grew up in West Hartford, has spent summers in Greece, where her father Leonidas (the head coach of UConn women's soccer) grew up on the remote fishing island of Icaria. Environmental degradation there is rampant and Tsantiris, a scuba diver, is working to spread environmental stewardship on the island.
Last summer, she contacted the Archipelagos Institute for Marine and Environmental Research on a nearby island, and is now working with it to draft a report about the degradation on Icaria. She has also done summer research on marine mammals on a nearby Greek island for the Tethys Research Institute, and spent a summer at the University of Michigan doing basic research in molecular and cell biology.
Tsantiris has also been active on campus as a member of the EcoHusky group and an intern in the Environmental Policy office. There she has worked to get sneakers recycled, been involved with a number of initiatives to improve environmental policy on campus, and spearheaded an effort to get people who attend UConn's basketball and football games to recycle.
"Kathy is passionate about the environment," says Rich Miller, director of environmental policy. "She's also a great communicator. She is well-informed about environmental policy issues and the underlying science, so I often ask her to draft everything from environmental outreach materials to grant applications and donor solicitations for UConn's Campus Sustainability Fund."
Tsantiris says the environmental projects she has been involved with have taught her that public policy is just as important as knowing the science of the environment.
"Reversing environmental decline requires effort from all sectors of society," she says. "It is the complexity and the urgency that motivate me. Environmental science is not a field of its own; it is the meeting point of every field. It is anthropology, sociology, and political science; it is biology, marine science, and chemistry."
Her favorite course at the University so far has been "The Politics of Oil."
"UConn is a really great school," she says, "with a lot of great professors and a lot of great opportunities. UConn is giving me an amazing education."