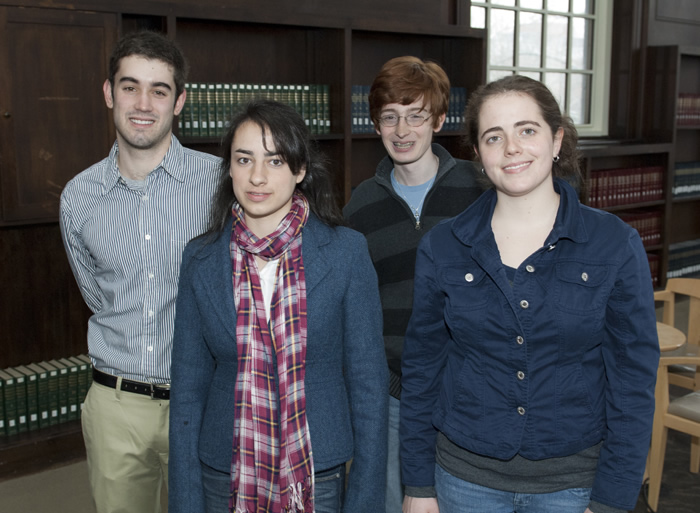 Four UConn students have been honored by two prestigious scholarship organizations: the Barry M. Goldwater Scholarship Program and the Harry S. Truman Scholarship Foundation.
Juniors Colin Carlson and W. David Lindsay in the College of Liberal Arts and Sciences and Kathleen Carey in the College of Agriculture and Natural Resources, also a junior, have been awarded Goldwater scholarships, which are given for academic merit in the sciences, engineering, mathematics, and computer science. Anna Green, a sophomore, received an honorable mention for the award. The scholarship grants $7,500 toward the completion of the recipient's undergraduate degree.
Carlson was also awarded a Truman scholarship, which acknowledges college juniors for their leadership abilities and dedication to careers in public service. The scholarship provides $30,000 toward graduate study. Carlson is the fourth UConn student to win the award since its inception in 1975.
UConn had two additional finalists for the Truman scholarship this year: juniors Lucien Lafreniere and Nicole Rubin, both in CLAS.
Colin Carlson, an honors student and University Scholar, is earning a dual degree in ecology and evolutionary biology and in an individualized major, environmental studies. At the age of 14, he is one of the youngest students ever to attend UConn.
Several EEB faculty members have worked with Carlson on research projects. He has investigated reproduction in fish that give birth to live young with associate professor Eric Schultz, and he traveled to South Africa with Professor Carl Schlichting to work on his University Scholar thesis, which will examine how native South African plants respond to differing levels of sunlight.
Carlson has also been engaged in outreach and public service, helping to found a climate change action group in his hometown of Coventry, a national network of student environmental groups called the Keep US Cool Initiative, and the Connecticut Youth Activist Network.
Carlson says being honored for both his scientific and service achievements is a great distinction.
"A lot of what I want to do is bridging public service and science," he says. "It's really special to know that I've been recognized in both fields."
Carlson plans to continue his education with a Ph.D. in ecology and evolutionary biology, and eventually a degree in law.
W. David Lindsay is an honors student earning degrees in neurobiology and mathematics. During his time at UConn, Lindsay has performed research in the laboratories of chemistry professor Vijaya Kumar and physiology and neurobiology faculty members Akiko Nishiyama and Joanne Conover. With Conover, Lindsay is currently investigating the proliferation of adult neural stem cells.
In conjunction with Craig van Horne, neurosurgeon-in-chief at St. Elizabeth's Hospital in Boston, Lindsay has created a computer model that analyzes speech patterns in Parkinson's patients who have undergone deep brain stimulation. Based on his experiences with van Horne, Lindsay founded the UConn Physician Scientist Internship Program, in which three UConn undergraduates are funded each summer to work with van Horne in his Boston laboratory.
Lindsay will move on to pursue a combined MD/Ph.D. with a concentration in computational neuroscience, which he says will allow him to use high-level mathematics to ask research questions about the human brain. He hopes to create models of the human nervous system that will allow scientists and doctors to better investigate complex diseases.
"Especially right now, when research dollars are at a premium, we can create artificial systems to test our hypotheses about the brain," he says, adding that testing in artificial neural systems can hone scientists' experiments before they move on to animal models.
Kathleen Carey, also an honors student, is a pre-veterinary major, advised by Professor Steven Zinn in the animal science department.
A chance to work with seals at the Mystic Aquarium & Institute for Exploration's stranding and rehabilitation facility, an outgrowth of work done by one of Zinn's former post docs, provided her with the opportunity for longitudinal research into the physiology of growth in these marine mammals.
As a founder of the Honors Council's Environmental Committee and vice president of the University-wide ECOalition, she is committed to helping make UConn a more sustainable university.
Carey will study tropical ecology, marine ecosystems, and biodiversity conservation in Panama next fall, before returning to UConn for her final semester.
She hopes to pursue a career in mammalian reproductive physiology, focusing on captive populations of endangered species.
Anna Green, who was given an honorable mention in the Goldwater competition, studies bioinformatics with Peter Gogarten, professor of molecular and cell biology, looking at the evolution of bacteria that can withstand high temperatures.
Her recognition as a sophomore bodes well for her chances next year, as Lindsay and Carey both received honorable mentions in last year's competition.
Lucien Lafreniere, a finalist in the Truman competition, is majoring in political science and American studies at the Waterbury campus. He is mentored by urban studies specialist Ruth Glasser in the history department at Waterbury. A veteran of the U.S. Marine Corps, his service activities revolve around his role as a student veteran leader, focusing particularly on the housing challenges of returning veterans.
Nicole Rubin, also a finalist for the Truman, is an honors student and University Scholar with a double major in biology and in an individualized major in health and human rights. Combining her concern for medical intervention with her commitment to human rights and public service, her University Scholar project examines social disparities in HIV/AIDS treatment and prevention. She is advised by Amii Omara-Otunnu, the UNESCO Chair in Comparative Human Rights.
UConn's Office of National Scholarships, led by director Jill Deans, helped guide and support the students during the application process.
"We're so proud of all of our students who applied for national awards this year," says Deans. "The number of awardees this year is truly a windfall."