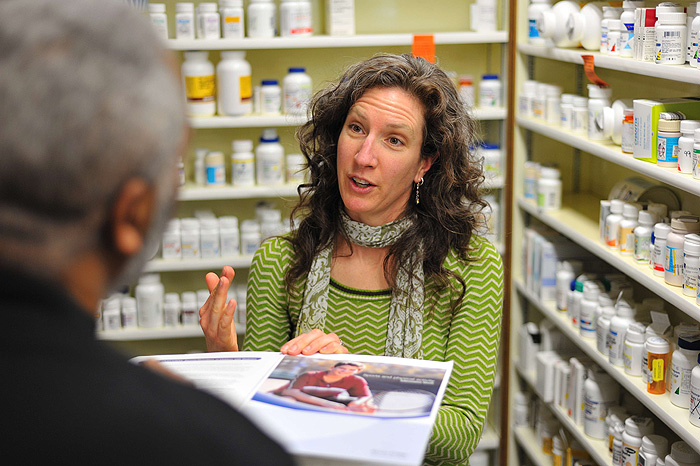 On a cool spring morning, a group of local residents gathers at the Mansfield Senior Center to hear a pharmacist speak about preventing falls.
Some members of the group tell stories about the injuries they suffered in a fall. Others wear small plastic pendants that allow them to call for help at the push of a button should they wind up on the floor and injured.
The leader of the seminar, Lisa Holle, a UConn assistant clinical professor of pharmacy practice and a registered pharmacist, nods in acknowledgement and proceeds to explain to the group some of the precautions they can take to better protect themselves.
Holle talks about the hazards of certain medications and over-the-counter drugs (such as Tylenol PM) that can make people drowsy and dangerously dizzy. She also talks about tacking down small area rugs, choosing safe footwear (shoes and slippers that fit snugly and have good grips on the soles are best), and doing simple exercises to build leg strength and increase stability.
Helping people lead healthier lives
When she isn't teaching, Holle practices at Storrs Drug through a special arrangement involving the popular local business and the UConn School of Pharmacy. But today she is away from the medication dispensing counter at the local pharmacy. By being out in the community talking to patients, Holle represents a new era in community-pharmacy relations, one that UConn's School of Pharmacy has embraced, taking a leadership role in this field in Connecticut.
Holle's mission as the University's new community clinical pharmacy faculty member is to develop and implement outreach services through community-based patient care and medication therapy management. Part of Holle's role – whether by meeting patients in a private counseling area at Storrs Drug or in a community room at the local senior center – is to help individuals better manage their personal health, especially those with chronic problems such as high blood pressure, diabetes, heart disease, cancer, and asthma. She does this, in part, by reviewing patients' medications for possible drug interactions, consulting with patients' physicians, and advising patients on wellness programs such as her fall prevention seminar.
"We're trying to develop clinical pharmacy services in a community setting, and that hasn't been done traditionally in New England," says Holle, who started her new position last fall and has led other talks about calcium and Vitamin D supplements, stroke awareness, and Alzheimer's disease. "Pharmacists have this whole base of knowledge. We are trying to help people to not only make the best and safest use of their medicines but also to lead healthier lives."
Storrs Drug is helping fund the faculty position along with UConn's School of Pharmacy. Co-owner Naufel Tajudeen, a registered pharmacist who holds a doctoral degree in pharmacy, is a firm believer that local pharmacists can play an important role in today's rapidly changing health care system.
"This is our vision of the future of pharmacy," says Tajudeen. "I think it's great that Lisa can take the knowledge she has and bring it out to the community. It's not something that's easy to do in today's economy, because these kinds of services currently aren't reimbursed by insurance. But we feel it is important to show that these services are beneficial and can save money in the long run."
A recent study by the UConn School of Pharmacy, Connecticut Pharmacists Association, and Connecticut Department of Social Services showed that when pharmacists reviewed the medication lists of Medicaid patients, they found numerous problems with how the patients were using anti-inflammatory drugs, statins, asthma inhalers, and medications used to treat diabetes, among other issues.
Most of the problems were resolved by pharmacists counseling patients or consulting with the patients' physicians. During the study, physicians and pharmacists worked together to help patients manage their medications and coordinate care, according to Marie Smith, the study's lead author and a professor and assistant dean for practice and public policy partnerships at the UConn pharmacy school.
Because of the increased monitoring and interventions provided during the study, the ability of patients to achieve their therapy goals increased from 63 percent at the study's start to 91 percent upon the patient's final meeting with their pharmacist. In terms of cost savings, the study showed an estimated annual saving of $1,123 per patient on medication claims, and $472 per patient on medical, hospital, and emergency department expenses.
A trusted expert
"Lisa Holle's community education programs promote the role of the pharmacist as an accessible and trusted expert on the safe and appropriate use of medications for patients and their family members," says Smith. "Her faculty position at Storrs Drug is an example of the School of Pharmacy's commitment to establishing public-private partnerships that are consistent with UConn's academic mission of public engagement."
Tajudeen says his customers' response to the outreach program has been overwhelmingly positive. With many doctors struggling to balance caseloads, insurance requirements, and other demands, he says, patients are looking for more health and medication information, and that's where pharmacists can help. Pharmacists have the skills and knowledge to serve as active members of a coordinated health care team, working alongside primary care physicians, specialists, and other professionals to ensure that patients receive the highest quality care.
"The local pharmacy has become a place where people feel comfortable asking questions," Tajudeen says. "Patients who participate in our counseling services say they do so because they may not have time to do so at a busy doctor's office."
Equally telling is the feedback Holle received after her fall prevention talk.
"This was excellent," said Zoma Spivak, one of the attendees. "I learned a lot, and I think it's great that we have an opportunity to talk about these things."
Josef Gugler was also impressed. "It's extraordinary what Storrs Drug is doing," he said. "I've been impressed since the very beginning. Lisa is very knowledgeable; she is very committed, and she connects with people."