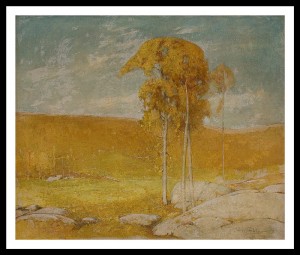 The Sum of Its Parts, a summer-long exhibition at The William Benton Museum of Art, is a chance for art lovers to get a close up look at many of the exhibits from the museum's permanent collection. This comprehensive display features works of art dating from the 17th century to the present, and represents an eclectic blend of eras, artists, and media.
Among newly acquired works on display is a 6 x 8 foot acrylic on plastic panels titled 'Sower' by Connecticut artist Peter Waite. The painting depicts a scene from England's Kew Royal Botanic Gardens  and was a gift to the museum from Howard and Judith ('58) Ganek. Waite, an award winning artist whose works are held in many public and private collections, including the Metropolitan Museum of Art in NYC, the Palm Springs Desert Museum in CA, and the Wadsworth Atheneum in Hartford, is known for his realism, detail, and use of space as an architectural element.
Another new acquisition is 'R' (Refugee) from Chilean born artist and civil rights activist, Alfredo Jaar. The work includes a light box, photo transparency, and six mirrors. By viewing the heavily cropped image reflected in the mirrors, viewers are invited to reexamine their physical and ideological position in relation to the subject matter. Jarr was the 2010 Raymond and Beverly Sackler Artist-in-Residence at UConn, and last spring he exhibited a work specially commissioned for the Contemporary Art Galleries titled, We Wish to Inform You That We Didn't Know which detailed the genocide in Rwanda. His works are found in collections around the world.
There are several paintings representing American Impressionism on display. Foremost among them is Helene de Septeuil, a pastel on paper by Mary Cassatt. Defying the conventions of her day which strongly suggested that women not pursue careers, Cassatt (1844-1926) studied at the Pennsylvania Academy of the Fine Arts before moving to Paris in 1866. While most Impressionists of the day were focused on landscapes and street scenes, Cassatt became famous for her portraits, especially of women. In this portrait of the baby Helene, the influence of her friend and contemporary artist Edgar Degas is reflected in her tiny, closely-placed strokes that create a luminous effect.
Also featured are works from the Dutch Golden Age including the Rembrandt etching, Peter and John Healing the Cripple at the Gate of the Temple, which was completed in 1659. Rembrandt Harmenszoon van Rijn (1606-1669), is generally considered one of the greatest artists in European art history.
There are numerous works from "The Eight", a group of American artists who introduced a new realist tradition in American art at the turn of the twentieth century. This group,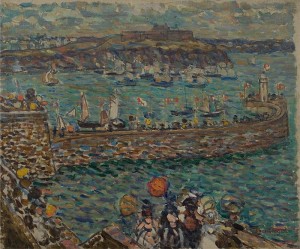 which included, among others, Arthur Bowen Davies, Robert Henri, and Maurice Prendergast, gained fame for their collective belief that thematic and stylistic diversity was the prerogative of the individual artist. Even though they had different styles and methods of interpretation, they collectively rebelled against the genre of American Impressionism, which emphasized lightness and the natural world, as they sought to represent some of the more realistic, and darker, aspects of American life.
The Sum of Its Parts includes a selection of feminist art that illustrates second-wave feminism's concern for body politic, a mainstay of the Benton's collection; a collection of 17th-century Italian prints and drawings, and a collection of contemporary photography dealing with the concept of space as perceived through the photographer's lens. These and other works contained in the exhibit assure that there is 'something for everyone' on display.
The Benton Museum, officially designated the State Art Museum, has built its collection of 6,000 diverse works through gifts, funds from endowments, and through the efforts of The Friends of The Benton.
In addition to The Sum of Its Parts, which will be on display through August 7th, the museum is also currently showing The Art of Dr. Seuss, The Colored Woodcut in 19th-Century Japan, and Project 35, a program of single-channel videos selected by 35 international curators. Additional free summer events include Friday Films on the theme of "Who gets to call it art?"
The Benton's summer hours are 10:00 a.m. – 4:30 p.m. Tuesday through Friday, and from 1:00 p.m. – 4:00 p.m. on weekends. The museum will be closed July 2, 3, and 4 for Independence Day. Complete information can be found at www.thebenton.org and on Facebook/William Benton Museum of Art.