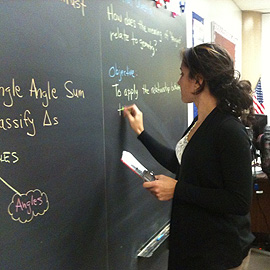 The classroom middle and high school math teacher has a lot to tackle these days. He or she needs to continue developing content knowledge as it pertains to algebraic and proportional reasoning, help students form an academic language for expressing and understanding math concepts, and shape a pedagogy that will enhance justification and higher order thinking skills.
But they also are called on to step up and be math leaders in their schools, often in settings where they are part of a committee and not officially in charge.
With this scope of skills in mind, a group of Neag math educators and a mathematician are creating a yearlong Math Leadership Academy for about 30 teachers in four school districts, with the support of a $380,000 grant from the state Department of Higher Education. The 12 credits of graduate coursework begin with training in July, continue with weekly seminars in the fall and spring, and culminate in an April 28, 2012, symposium.
"If we do this well, we'll have a nice collaborative group that will be a resource for one another to work together on problems and improve their practice," Dr. Megan Staples, a Neag math educator and co-director of the project, says.
Participating math teachers or those in related specialties will have at least three years of classroom teaching experience, hold a provisional or professional educator teaching certificate, and be motivated to improve their practice and leadership skills. Tuition and fees are paid through the grant. The 30 spots are almost filled and there is a wait list, Staples says.
The teachers are in districts already connected through Neag's Integrated Bachelor's/Master's Teacher Education Program and its post-graduate teacher certification program. Districts are Hartford, East Hartford, Manchester and Vernon, with at least two teachers chosen from most of the participating schools in an effort to strengthen the academy's ongoing impact.
Participants can earn 12 credits toward a master's degree or a Sixth-Year Certificate. Six credits are tied to two courses – math and pedagogy – in the intensive nine days of training in July. The fall and spring weekly seminars each carry three credits. During the year, participants will apply coursework and new ideas and support other teachers' learning. The year will culminate in a symposium open to academy enrollees, Neag students, and others.
Setting up a leadership network among in-service teachers in Grades 6-12, even between districts, is the new piece.
"We define leadership a little bit more broadly, not just as formal leadership," Staples says. "Teachers are taking on leadership roles on committees in collaborative relationships. How does one navigate a system that is flat hierarchically?"
Staples explains that on a committee in a school setting with a flat hierarchy, "you're supposed to be peers with everybody but you might be the point person to facilitate and make recommendations. The districts were very excited that this was an aspect. They told us, 'Yes, we need that.' "
Dr. Mary Truxaw, also a Neag math educator, is the project director and will teach the pedagogy course with Staples. Dr. Fabiana Cardetti, co-director on the project and assistant professor in the UConn Math Department, and Dr. Reed Solomon, an associate professor there, will teach the math content class. Elements from the two courses will be tied together in the training, and academic year seminar project ideas will grow out of that work.
The other elements of the academy's focus – content reasoning, math justification discipline, academic language and pedagogy – are crucial underpinnings for the leadership goal.
"In leadership how this all fits in, especially in a flat hierarchy, somebody's expertise in an area is very important for them being able to influence or being turned to as a leader," Staples says. "One of the most important pieces for someone who is in a role is that pedagogical expertise. We're really working on pedagogy and content because that is the foundation for being a math leader. You need to be confident in what you're doing to express that to others."
Due to recent federal budget cuts, the Math Leadership Academy has funding for one year only, Staples says. But she is hopeful about its impact, which will reach not only teachers in the field, some former Neag graduates, but pre-service teachers at Neag.
One academy participant, Vanessa Rodriguez, a Neag IB/M program graduate who has been teaching math for five years at Bulkeley High School in Hartford, will be supervising a Neag intern next school year. "That student gets wonderful exposure and will see work Vanessa is doing through the academy," Staples says. "Because we partner with student teacher districts, the idea is that this overall capacity building cycles back and supports our students and the work we do here."