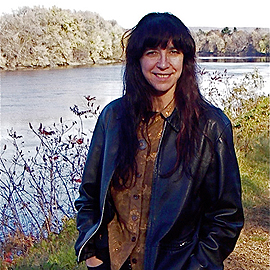 As an anthropologist, Margaret Bruchac studies the circulation and display of culturally significant Native American artifacts.
But as a Native American and repatriation consultant, she also helps to recover tribal patrimony, including wampum belts, audio recordings, and other historical items belonging to Native American communities.
Through her dual roles as anthropologist and Native American, Bruchac hopes to uncover knowledge that might be unavailable otherwise.
"In some cases, I find materials that would not be accessible to me if I wasn't Native. In other cases, my anthropological credentials afford me access to archives," says Bruchac, who is of Abenaki Indian descent. "It's a very exciting time to be doing this work."
Watching the collectors
An assistant professor and coordinator of Native American and indigenous studies at UConn's Avery Point campus, Bruchac studies the collection of Native American materials by anthropologists for use in museums worldwide. These endeavors, which began in the late 1800s, have not always had noble intentions, she says.
"During these times, Native tribes were presumed to be vanishing, and languages and data were collected in a hurry," Bruchac says. "That collecting was sometimes linked to the loss of tradition."
The late 19th and early 20th centuries marked the political marginalization of many indigenous populations in the United States. Aided by reports from Native informants who agreed to serve as collectors and intermediaries about their culture, anthropologists began collecting indigenous artifacts and information about Native languages and culture.
This type of collecting—termed "salvage anthropology"—often had negative consequences on the indigenous cultures it claimed to be preserving, says Bruchac. Several well-known anthropologists had long-standing relationships with their Native informants. But instead of giving their informants credit, says Bruchac, the scholars marginalized informants' intellectual contributions and claimed ownership over tribal property, while moving the artifacts into museums.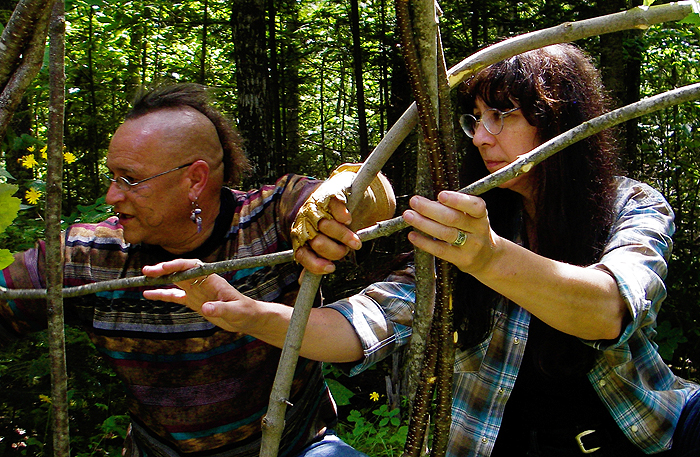 To understand these interactions, Bruchac is tapping unpublished archives and oral histories to investigate partnerships between these and other anthropologists and their informants during the early 20th century. This work will result in a book titled "Consorting With Savages: Indigenous Informants and American Anthropologists."
For her work, Bruchac was recently awarded a $40,000 Ford Foundation fellowship for Excellence in College and University Teaching, administered by the National Research Council. The fellowship awards academic achievement, scholarly promise, and commitment to intellectual and ethnic diversity in academia.
Bruchac will also serve as the Katrin H. Lamon Fellow in residence at the School for Advanced Research (SAR) in Santa Fe, New Mexico during the 2011-2012 academic year. SAR is considered one of the premier think tanks for anthropology and Native American studies in the world.
In addition to using archives, Bruchac will interview the Native American descendants of informants.
"I call it 'reverse anthropology'," she says. "I'm going back to the Native American communities that worked most closely with the early anthropologists to determine precisely how they were 'anthropologized,' and to seek memories of those early encounters."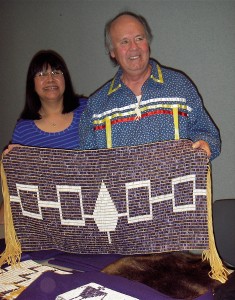 Tracking Wampum loss and recovery
One of the most important items of cultural significance in Native American culture, says Bruchac, is the wampum belt. Fashioned from strings of white and dark shell beads known as wampum, these belts were used as agents of governance and symbols of alliance that reinforced tribal relations.
Wampum belts were taken by anthropologists, stolen by dealers, or confiscated by state agents, while some were sold to private collectors under suspicious circumstances. The loss and recovery of these belts, says Bruchac, can be linked to the loss and recovery of Native American culture over time.
"Wampum, in a sense, is a unifying link in cultural currency." she says. "It is considered an active living agent that gives us glimpses into indigenous governance."
Bruchac's work aims to trace the fate of wampum belts for a second book, titled "At Wood's Edge: Documenting Wampum Loss and Recovery." Bruchac will work with Tuscarora scholar and elder Richard Hill, coordinator of the Indigenous Knowledge Center at the village of Ohskweken in Ontario, to interview tribal leaders among the Six Nations Haudenosaunee (also known as the Iroquois) for this project.
This work will be supported by an American Philosophical Society Phillips Fund Research Grant. Timothy Powell, the director of Native American projects at the American Philosophical Society, has noted that Bruchac's research brings to light the complicated role of indigenous informants in the creation and circulation of anthropological knowledge.
Connecting cultural divides
Fortunately, says Bruchac, much effort is now being devoted to repatriation, or the return of items of indigenous patrimony to Native American communities.
"By reconnecting people with ancestral artifacts, images, and voices," Bruchac says, "museums can contribute to cultural restoration, thus repairing some of the damage done by their predecessors."
Bruchac is looking forward to working at the School for Advanced Research and with the American Philosophical Society, both of which promote Native American anthropology.
"It is so heart-filling to do this work. It feels like this is why I became an anthropologist," says Bruchac. "It encourages me to use every bit of my own humanity in the goal of restorative research. My social relations help me to navigate among Native tribes, and I can use the anthropological methods to highlight the intersections among indigenous and academic knowledges."
And, she says, identifying with both groups makes the work all the more worth it.
Learn more about anthropology in CLAS.