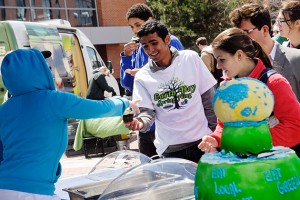 The University of Connecticut has gone from 49th to 16th place nationally among the colleges and universities in the Sierra Club's 5th annual "Coolest Schools" rankings, which recognize efforts to improve sustainability and create "green" campuses.
There were 26 state flagship universities ranked in the top 100, including UConn and seven regional campuses of the University of California system. UConn was highest-ranked among Big East schools that made the list, including Villanova (#32), Louisville (#41), University of South Florida (#47), Pittsburgh (#52), and Syracuse (#88).
The rankings, which are featured in this month's issue of Sierra Magazine, are a "salute to the efforts of colleges around the country helping to solve climate issues and operate sustainably."
The cover feature spotlights the schools that are "making a true impact for the planet," according to a Sierra Club announcement.
Institutions are ranked based on a variety of criteria, including energy, efficiency, food, transportation, purchasing, and academics.
"The Sierra Club survey measures performance in many areas," says Rich Miller, director of environmental policy for UConn. "UConn's score shows that our sustainability efforts cover a wide range of activities and engage many people in operational and academic departments across the University. It confirms that environmental stewardship is a fundamental value for UConn, as it should be for a land and sea grant public research university."
UConn has a vast array of environmental initiatives underway across campus, including recycling, energy and water conservation, and green building and low-impact development. According to Miller, several recent developments have set UConn apart and could explain the jump in the rankings.
"We've been very diligent about implementing our Climate Action Plan, including energy efficiency projects in more than 100 buildings that will annually save over a million dollars in energy costs and reduce our carbon footprint by thousands of tons," Miller says.
Beyond that, last year UConn opened a state-of-the-art agricultural waste compost facility that will recycle 5,000 tons of manure, leaves, and landscaping materials each year; established Spring Valley Farm, a farm-based living and learning community where student residents learn by growing organic produce for use in the dining halls; and completed construction on the LEED Silver-registered social sciences and humanities classroom building, which features a green, or vegetated, roof to reduce stormwater runoff and energy costs through heating and air conditioning.
The complete rankings are available on the Sierra Club website.
"When students take what they've learned in the classroom and proceed to get their hands dirty in the real world, they realize the potential they have to make a difference," says Bob Sipchen, editor-in-chief of Sierra Magazine. "We're thrilled to highlight these forward-thinking schools for emphasizing environmental responsibility, and for teaching, inspiring, and empowering students to effect real change."