Emmanouil Anagnostou, professor of civil and environmental engineering and the Northeast Utilities Endowed Chair in Environmental Engineering, can predict the movement of water using complex mathematical equations. But he could not have predicted the path his career would take to get to this point.
"When I was a kid I was more interested in electrical engineering stuff," says Anagnostou, who received the Faculty Excellence in Research Award from the UConn Alumni Association in October for his innovative work in hydrometeorology. "At school I was always playing with electronics. I never understood how they worked, so I was basically destroying electronics. I was always opening any toy I had."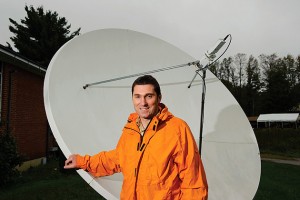 Anagnostou is a renowned expert on remote sensing applications in atmospheric and hydrologic sciences. In particular, he has a keen interest in the complex physical processes that shape precipitation and enable the more accurate and timely prediction of severe weather and floods. He studies this with highly sophisticated electronics.
"I'm not really developing sensors," explains Anagnostou. "I'm building the scientific and physical background for the use of those sensors, the algorithms that really drive those sensors."
While fascinated by aerospace and movies with computers that filled rooms, Anagnostou says the educational system's selection process steered him away from electrical engineering.
"I didn't rank as high to get into electrical engineering, to tell you the truth. I ranked high enough to get into civil and environmental," he says.
So Anagnostou moved away from electronics and began thinking about how water is converted to energy. From there, he became interested in modeling the movement of water – writing the mathematical equations that predict what will happen when precipitation hits the ground.
"I was driven by the mathematical equations that are driving the predictability," says Anagnostou. "And after getting into this game, I realized how complex everything is. How nature is probably the most complex aspect of engineering."
Anagnostou's Ph.D. degree work at the University of Iowa dealt with rainfall estimation using weather radar, but he wanted "something more."
"Something more" became NASA, where Anagnostou transitioned from ground-based sensors to satellite-remote sensing.
"I think that was a very good move because radars have a great potential for monitoring over developed countries, but satellites are giving us a global view of what's going on."
Over the past 10 years, Anagnostou has been a member of NASA's Tropical Rainfall Measuring Mission Science Team, where he has helped profile precipitation over oceans and inaccessible areas like rainforests. And, in his role as Northeast Utilities Endowed Chair in Environmental Engineering, Anagnostou draws on all of his experience to date.
"We try to take our severe weather forecasts, and all the work I've been doing on severe weather prediction, and translate that into potential damages," says Anagnostou. "Of course, for a power utility company, damages are focused primarily on the power lines, so they want to know where and when these things can happen so they can prepare their repair crews and place them in the right locations."