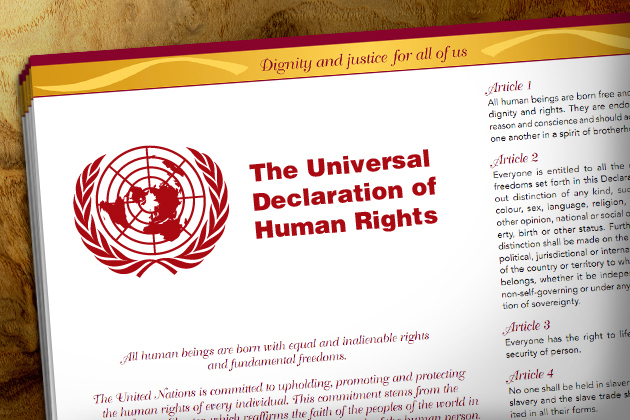 Both the UConn Board of Trustees and the state's Board of Regents for Higher Education have now approved the establishment of a Human Rights major at the University of Connecticut, making UConn the first major public research university in the U.S. to do so.
The major will span the social sciences and humanities, to teach students about the theory, application, and violations of the fundamental rights that apply to humans around the globe.
"UConn has the preeminent interdisciplinary human rights program outside of a law school," says Richard Wilson, the Gladstein Distinguished Chair in Human Rights and professor of anthropology and law, who directs UConn's Human Rights Institute. "We've developed this remarkable profile in human rights that takes UConn to the cutting edge of a new field of scholarship and activism. It shows a lot of chutzpah – and vision – on the part of faculty, students, and administrators."
Jeremy Teitelbaum, dean of CLAS, says, "The human rights major draws on faculty from across the College of Liberal Arts and Sciences, in departments including history, political science, economics, and English. Based on our experience with the human rights minor, I expect the new major to become one of our most popular programs."
Students will complete the human rights major in conjunction with another major, which, says professor of political science Richard Hiskes, advisor to the new major, will ensure students' entry into a wide array of professions following their graduation.
"The new major delivers to students an extraordinary opportunity to explore human rights in the classroom, in research, and in the field, under the guidance of outstanding faculty spread across many disciplines within CLAS," says Hiskes.
In addition to coursework, the major includes a capstone project in the form of a thesis or a service learning internship.
Potential careers include working in policy, for an NGO, for the government, practicing law, or becoming a social worker or aid worker. Students of the existing human rights minor and its affiliated coursework have gone on to important careers fighting human rights violations around the world, while current students take advantage of internship opportunities and the expertise of faculty with hands-on knowledge of human rights issues.
Human rights has a distinguished history at UConn: the Thomas J. Dodd Research Center is devoted to the theme of human rights; in 2003, UConn's Human Rights Institute was created; the Gary Gladstein Endowed Chair of Human Rights was established in 2005; the only United Nations UNESCO Chair in human rights in the U.S. is held by CLAS historian Amii Omara-Otunnu; and associate professor of political science David Richards co-directs one of the leading worldwide ratings of global human rights.
The new major will be offered beginning in May 2012, and two current students are on track to receive the major upon graduation in August 2012.