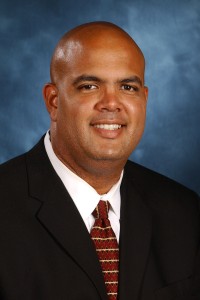 Warde J. Manuel, who has had a distinguished career in intercollegiate athletics that ranges from being a student-athlete to a director of athletics, has been named the new Director of Athletics at the University of Connecticut by President Susan Herbst.
Manuel, a 1990 graduate of the University of Michigan where he was on both the football and the track and field teams, has most recently been the Director of Athletics at the University at Buffalo for the past six years.
"We are incredibly proud and thrilled that Warde will be joining the Husky family," said Herbst. "UConn is one of the great American universities, and our athletics program is the envy of many. It's because of this that we were able to attract an amazing pool of candidates from across the nation – and an ideal, stand-out candidate of Warde's exceptionally high caliber. He will play the integral, and even transformational, role in the future of UConn athletics. It's a great day for this university."
Manuel led a 20-sport program at Buffalo, an institution that is a member of the prestigious American Association of Universities. Buffalo enjoyed an unparalleled period of success during his time there, from an athletic, academic, and community service perspective.
"I am so honored and excited to come to the University of Connecticut," said Manuel. "UConn is synonymous with greatness, excellence, and achievement. It is without a doubt one of the legendary schools that is at the pinnacle of intercollegiate athletics. The opportunity to be the athletics director at UConn and lead this extraordinary division is the role of a lifetime. You have remarkable coaches, great leadership, outstanding student-athletes, and a wonderful base of fans, alumni, and supporters. Our focus will be on academic success, compliance, ensuring great relationships with our fans, friends, and supporters and, without a doubt, victory on the field and the court. My family and I are so happy to call UConn home."
From an academic standpoint, teams at Buffalo enjoyed incredible academic success. When Manuel arrived at UB, there were four programs – football, men's basketball, wrestling, and baseball – that fell far below the NCAA Academic Progress Rate (APR) cut score of 925. With a focused academic plan, all four teams posted a four-year APR rate above the cut score, and at the end of 2009-10, 10 of UB's 20 sports had scores of 975 or above.
Buffalo enjoyed great on-field success during Manuel's time, as the football team participated in the 2009 International Bowl and the men's basketball team made postseason appearances in three of the past seven years. Olympic sports also thrived under Manuel's leadership, with accomplishments such as three-straight Dad Vail Regatta titles by the rowing team; six wrestlers earning spots at the 2011 NCAA Championship; and the women's tennis team making an appearance in the 2008 NCAA tournament. The sports of baseball and softball won a record number of games during his tenure, and student-athletes earned All-American and all-conference honors at record rates.
Under Manuel's direction, UB student-athletes, coaches, and staff are committed to community outreach, and developed a comprehensive outreach program that reached across social and economic borders. UB student-athletes, coaches, and administrators conduct over 2,500 community service hours in the Western New York community on an annual basis. UB's Student-Athlete Advisory Committee (SAAC) also coordinates 16 community service projects per year including internal campus-related projects and external community projects. Each of Buffalo's 20 athletic teams also conduct at least one community service project per year.
Kevin White, Vice President and Director of Athletics at Duke University, said of Manuel's appointment, "Simply said, Warde Manuel represents a brilliant appointment at UConn! Warde has very quickly become one of the most respected leaders within college athletics. He is strong and determined, perhaps humble to a fault, highly empathetic, certainly task-oriented, and inordinately passionate about providing the very best student-athlete experience possible. Above all of that, Warde is a guy that – all day, every day – simply 'drips with integrity.' Unequivocally, the Huskies couldn't have made a better hire!"
What others are saying about Warde Manuel:
Reggie Witherspoon, Head Men's Basketball Coach, University at Buffalo
"Warde is going to be a great ambassador for the University of Connecticut, and he is going to immediately exude energy on the campus. Warde stands firm on academic principles first and foremost, and he is also an extremely competitive person who wants to win. The people of Connecticut will be thrilled by him, and feel good about being in his presence."
Lloyd Carr, Head Football Coach (1995-2007), Assistant Football Coach (1980-94), University of Michigan
"Warde had a very good playing career at Michigan, and he was the type of player that you wanted in your program. He was a very good student, good in the locker room, and was a team player. He then developed an excellent background in athletic administration here at Michigan and then at Buffalo, as he gained experience working in academics, fundraising, and a number of different sports. He is a bright person and an excellent communicator. I think that the coaches and student-athletes at Connecticut will really embrace what he stands for."
Gene Smith, Director of Athletics, Ohio State University
"First of all, Warde and [his wife] Chris are very good people and have a great family. Warde is a leader in our industry, and he understands the challenges that one faces in trying to run a collegiate athletic program. I also think he is going to be a huge asset to the university outside of athletics, as he really understands how all of higher education operates."
Manuel was honored by Sports Business Journal as a 2008 national 40-Under-40 honoree, after receiving the same honor from Business First of Buffalo in fall 2007. Manuel has served on a number of national and conference committees and boards.
In September 2011, he was one of only three athletic directors asked to serve on the Collegiate Model Rules committee, a working group of the Division I Committee on Academic Performance, charged with broad overview of the current NCAA Rules Manual.
He also currently serves on the NCAA Division I Championships/Sports Management Cabinet, and served for four years as a member of the NCAA's Academic Cabinet. During that time, he was selected as Chair of the NCAA Academic Eligibility & Compliance Transfer Ad Hoc Committee. He is a member of the Boards of the National Association of Collegiate Directors of Athletics and the D1A Athletic Directors Association. He also serves as a member of the Council of Presidents Budget & Finance Committee, and served for three years as the Chair of the Mid-American Conference Director of Athletics Finance Committee.
In June 2007, Manuel accepted the Opportunity Award by all-time tennis great Billie Jean King, as Buffalo was recognized by the Women's Sports Foundation as one of four "standout" colleges and universities in the nation for outstanding achievement in providing equitable athletic opportunities for its female student-athletes.
Prior to his time at Buffalo, he was the assistant and associate director of athletics for the University of Michigan, where he oversaw that school's football and men's basketball programs. In February 1998, he was named an assistant athletic director at Michigan, with responsibilities for overseeing operational facets of the university's athletic program. He was named an associate athletic director in September 2000.
Born May 22, 1968, Manuel is a native of New Orleans, who was a high school All-American football player and played for the University of Michigan under its legendary coach, Bo Schembechler. Manuel earned multiple letters, and started at defensive end in his sophomore year. His football career was cut short by a neck injury, and he subsequently earned two letters on the Wolverines' track and field team.
After graduating from Michigan, Manuel was coordinator of the university's Wade H. McCree Jr. Incentive Scholars Program from June 1990 to August 1993. The program is a partnership with The President's Council of State Universities and Detroit Public Schools that helps students prepare for higher education at public universities in Michigan. He subsequently worked briefly as an academic advisor with the Georgia Tech Athletic Association, before being named assistant athletic director of academic affairs.
In the course of working on a Ph.D. in social work and psychology at Michigan, he earned a master's degree in social work in 1993 and an MBA from Michigan's Ross School of Business in April 2005.
Manuel will sign a five-year contract with UConn, with the option for a two-year extension at the discretion of the university. He will be paid a base salary of $450,000 a year. He is eligible for a $100,000 performance incentive annually if certain academic and athletic goals are achieved, and is eligible for $100,000 in deferred compensation to be awarded at the conclusion of his five-year contract.
Manuel and his wife Chrislan have a daughter, Emma (17), and a son, Evan (13).