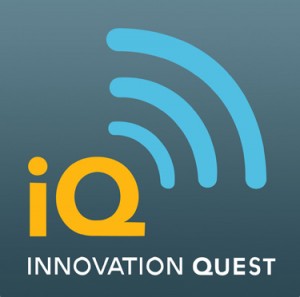 Jolina Li won't need to look for a job when she graduates this year with her bachelor's degree in finance. The 23-year-old entrepreneur and UConn senior has already created one for herself as the founder of YumZing.com, an online startup business. And now, she's among several students receiving a major boost through a new UConn competition to foster exactly that kind of ambition and innovation.
Li's team and three others were named the inaugural winners of Innovation Quest (IQ), which launched this year at UConn as an expansion of a competition that started almost a decade ago at California Polytechnic State University.
The UConn winners' projects rose to the top of 41 applications after an intensive process in which they had to pitch their ideas in detail to a judging panel of accomplished alumni and other experts, many of them entrepreneurs themselves.
Unlike some other competitions, Innovation Quest's benefits go far beyond the $30,000 being split among the four top teams.
Those teams and four other runners-up will also participate this spring in "InQbator," an intensive six-week accelerator program in which UConn alumni mentors and other experts will guide them in everything from licensing trademarks to drawing up contracts, planning their finances, and working out other logistics.
Seizing an opportunity
Innovation Quest expanded to UConn at the suggestion of Keith R. Fox '80 (BUS), a longtime business entrepreneur, executive, and philanthropist who offered to sponsor this year's contest after seeing its success at Cal Poly.
Other UConn alumni quickly embraced it, he said, and have offered their time and expertise to help the budding entrepreneurs, who can then use the guidance to push their startups from prototypes to companies. Then, they'll be in a position to present to potential investors.
Li, team leader of the first-place YumZing.com group, has been busy building the website into a service in which people can spread the word about favorite dishes at various restaurants, and those restaurants can highlight their specialties to a wide online audience. She expects to launch it this summer, once they've worked out a complementary mobile application.
As the top winner, Li's team gets $15,000 to help bring YumZing.com from concept to reality. She was one of the first applicants when the contest was announced earlier this year.
"When I see an opportunity, I have to go for it," says Li, whose Twitter profile proclaims, "Entrepreneurship is my passion."
She says it's a mindset that her entire family embraces, and which she learned by watching her parents launch and operate a restaurant in her hometown of New Britain. Being afraid to fail has never stopped her; she says she considers any setbacks to be valuable learning experiences for the next venture.
"I want to build something that people can benefit from. I know it's hard work to start your own businesses, but it's also very rewarding," Li says.
In addition to Li and her team, other winners of this year's Innovation Quest contest are building a bioscience database; running a specialized search engine; and creating an online shopping portal where consumers can combine purchasing with charitable giving.
Fox says more than 20 different academic disciplines were represented among the applications, ranging from business and engineering students to others in the liberal arts, medical and pharmaceutical fields, and the humanities.
"The applications were all very unique and very creative," Fox says, "and they really underscored the fact that ideas and innovation can come anytime, anywhere, and from anyone."
Friendly rivalry
The competition is one of many programs at UConn to support and encourage entrepreneurship, both as a way to help students and faculty enrich their experiences, and to boost Connecticut's job market and place it at the forefront of innovation.
Innovation Quest had the enthusiastic blessing of UConn President Susan Herbst, who stopped in to observe during the students' panel presentations to the judges earlier this month.
She's also engaged in a friendly wager with Cal Poly President Jeffrey Armstrong over which university will have the highest number of this year's startups running as companies by the time next year's Innovation Quest winners are selected.
"I'm still pinching myself that the contest was able to generate the sort of incredible applications we received, especially for its first time and on somewhat short notice. It's a joy beyond anything I can describe in words to see how they rose to the challenge," says Eric Knight '82 (CLAS), the local coordinator and one of the judges, and manager of the Springboard Program at UConn's Office of Technology Commercialization in its Office of Economic Development.
Knight, who also holds the title of UConn Entrepreneur-in-Residence, has launched many of his own business ventures over the years, and felt that same thrill of discovery when the student applicants explained their ideas and what they would do with the Innovation Quest winnings.
"The competition portion is really just phase one," Knight says. "The value they're really going to get will be the intensive mentoring they're about to receive. They're all innovative and ambitious, and what this program does is give them the freedom and resources to really go for it."
A passion for entrepreneurship
He says Li is exactly the kind of young entrepreneur they had in mind, and that her creativity and passion for entrepreneurship was evident in her presentation.
She isn't new to entrepreneurship. She also launched Oh Capture This, a business she runs primarily on weekends to provide rental photo booths at weddings, birthday parties, and other gatherings, where guests get photo stickers as souvenirs.
In addition to the YumZing.com team and its $15,000 award, the other winners honored at the program's April 24 awards dinner were:
A six-person group of UConn graduate students creating SIBOP, or Situational Input Biomarker Output Pipeline. The team wins $10,000 to continue developing the project, which involves creating a database of particular biomarkers in cells as a resource for researchers.
It's also considered a natural fit with the University's and state's efforts to become a world leader in the biosciences and personalized medicine through the Bioscience Connecticut partnership between the state, UConn, and The Jackson Laboratory.
The students are primarily graduate students in microbiology, computational biology, genetics, and similar fields, and are: Ajay Kumaresh, Asav Dharia, Ed Hemphill, James Lindsay, Robert Foley, and Sohaib Qureshi.
The team of David Crane '12 (ENG) and Thomas Feldtmose '12 (CLAS), who win $5,000 to keep expanding their SymbolHound search engine.
The site recognizes symbols such as the ampersand, Pi, and other characters as part of a search – rather than ignoring them like traditional search engines – and has already developed a following among computer programmers and others who use those specialized queries. Crane created the site last fall, and Feldtmose is its marketing head.
The four-person team behind Sharelogical Technologies LLC, intended to let people shop for bargains online while donating to a wide selection of charities at the same time on that site. If the users wish, they can make their profiles public to encourage others to donate, too.
The judges originally anticipated only three winners, but panel members were so impressed by Sharelogical that they wanted to support it and created a special $5,000 award for it. The Connecticut Technology Council also last year named it among its new ""companies to watch,"," based on innovation and potential for business success.
Sharelogical's student entrepreneurs are Maximilian Lekhtman '12 (BUS), Daniel Hanley '12 (BUS), Jay Bhagat '14 (BUS), and Onyeka Obiocha '12 (CLAS).