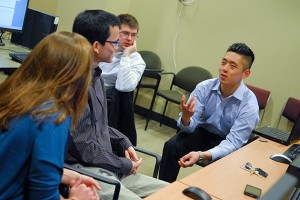 Cigna announced today that it is teaming up with UConn to expand its On-campus Developers Internship Program for computer science and engineering students. The initiative gives qualified junior and senior-year college students valuable career experience working directly with Cigna employees to develop web and mobile programming applications. Located at the new Cigna Innovation Lab at the Storrs campus, the semester-long internship program is designed to identify quality talent for future employment with Cigna as associates in its Technology Early Career Development Program.
"We see this program as giving talented students a first step en route to a long and successful career in technology," said Mark Boxer, chief information officer and executive vice president of Cigna, who is also an alumnus, advisor, and adjunct faculty member at UConn. "I'm excited about how quickly we've launched this effort, and by the caliber of the students we have recruited to join the program. The internship fosters significant opportunities for local computer science and engineering students to tackle real-world challenges in our business. This program also helps advance our hiring of local talent into the Connecticut economy."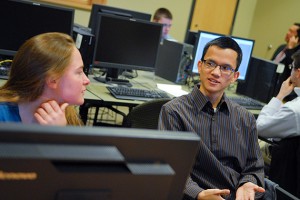 In January, Cigna worked with University officials to encourage qualified computer science and engineering students to apply for the internship program. Members of Cigna's Customer Solutions Group interviewed more than 50 students, and the 10 participants who were selected attended an orientation at Cigna's corporate headquarters in Bloomfield, where they were introduced to their employee supervisors. The participants, who are paid, have since started working 20 hours a week on web and mobile content management, back-end support services, and enterprise services projects in the Cigna Innovation Lab.
"Many of our students are interested in internship programs to gain relevant professional experience and to gain an edge when competing for jobs, but are unable to navigate the logistics of traveling from campus to companies between classes," said Mun Choi, dean of engineering. "Our unique partnership with Cigna provides students with a one-of-a-kind opportunity to participate in an exciting and educational internship right on campus. In today's difficult job market, the bonus of possible future employment with a major locally based health care provider is very compelling."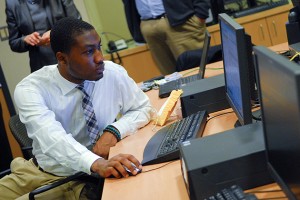 The Cigna Innovation Lab is located in the Information Technology Engineering building, which is home to UConn's electrical & computer engineering and computer science & engineering departments.
"It is very exciting to be a part of a program that gives me hands-on training and experience that prepares me for the future," said Brittany DePoi, a biomedical engineering and computer science & engineering double major from Brookfield, Conn., one of the interns. "So far I have gained invaluable experience by working on several interesting and innovative projects with a group of peers and Cigna supervisors. By working with this group of people I have been able to build relationships that will be extremely helpful as I move forward with my career goals."
The Cigna On-campus Developers Internship Program started in September 2011 at Eastern Connecticut State University. Since its launch, four participants have been hired for full-time positions at Cigna upon graduating. Cigna expects to double the size of the programs at both the University of Connecticut and Eastern Connecticut State University in the next two years, and is exploring similar partnerships with colleges and universities in other Cigna markets.