As the University counts down to Commencement, UConn Today is featuring some of this year's outstanding graduating students, nominated by their academic school or college or another University program in which they participated. For additional profiles of students in the Class of 2012, click here.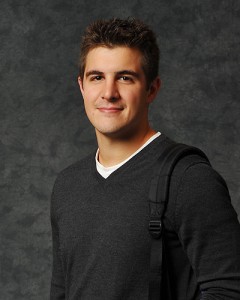 Lucien Lafreniere '12 (CLAS) could easily have been forgiven for taking a long break to regroup mentally and emotionally after completing four years as an active duty U.S. Marine, including in heavy combat in the Middle East.
Instead, the 26-year-old Bethlehem native came home and jumped wholeheartedly into an academic career at the University of Connecticut's Waterbury campus. That four-year journey is culminating in his graduation with a 4.0 average and a long record of accolades, academic awards, and volunteer achievements to his credit.
"The discipline I learned in the Marines really helped me as a college student. I brought that same approach to my education: When there's something you need to do, it will be done, no questions or excuses," says Lafreniere, a four-time Babbidge Scholar and a finalist last year for a prestigious national Harry S. Truman Scholarship.
Lafreniere, who lives in Prospect, is set to receive a bachelor's degree in history and American Studies from the College of Liberal Arts and Sciences. He plans to teach in an urban Connecticut school through the Teach for America program and pursue a master's degree in education, anticipating a career of teaching either in K-12 schools or at a college or university.
His instructors and fellow students hold Lafreniere in such high regard that he was selected as the student representative speaker at the annual Scholars Day Ceremony in March.
"Everybody who meets him relates so well to him," says William Pizzuto, director of UConn's Waterbury campus. "He's one of those people who give 120 percent to everything he's involved in. He's just a really solid, good guy and we're all really proud of him."
In addition to attending classes in Waterbury, Lafreniere has worked at the campus bookstore, on its information desk, and at the Osher Lifelong Learning Institute. He's also the married father of a toddler, a frequent guest speaker at veterans' forums statewide, and member of the Phi Kappa Phi and Phi Alpha Theta honor societies.
Lafreniere, a 2003 graduate of Nonnewaug High School in Woodbury, always admired the military while growing up and says he enlisted because he thought the experience would help mold his character and teach him responsibility.
The infantryman served in Afghanistan and Iraq, where he lost several friends in combat and also temporarily lost his hearing and developed tinnitus after a bomb exploded in front of his military Humvee. He rose over time to the rank of sergeant and, when he finished his stint in 2007, returned to the U.S. with plans to start college – and, along the way, to help veterans who needed psychological, academic, and other services.
Attending UConn was always his plan, he says, and he didn't even apply to any other schools. He's never regretted his choice, calling the Waterbury campus "one huge family where you know everyone and you can learn from incredibly intelligent people."
"When I thought of college, I always thought only of UConn," he says. "No other option even occurred to me. UConn is Connecticut."