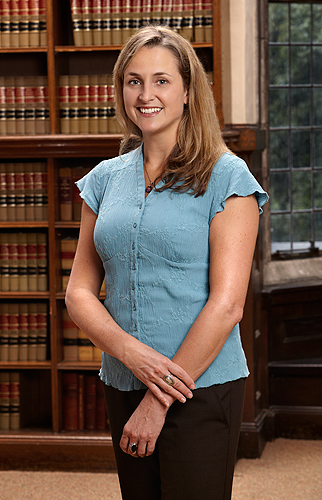 Lisa J. Laplante, a law professor and human rights scholar and researcher, has been appointed the interim director of the Thomas J. Dodd Research Center. Her appointment begins in August and is for one year.
Laplante first joined UConn Law School in 2011 as the Richard D. Tulisano Human Rights Fellow and a visiting assistant professor, after serving in a similar position at Marquette University School of Law. In 2007, she was invited to be a member of the School of Social Science at the Institute of Advanced Study at Princeton. In 2004, she co-founded the Praxis Institute for Social Justice, where she served as vice president and deputy director until 2009.
Her scholarship interests include transitional justice, post-conflict recovery and related issues of reparations and trials for human rights abuses, as well as economic development, institutional reform, and the rule of law. Her teaching interests include international law, human rights, international criminal law, and transitional justice.
"Lisa's scholarship and extensive experience in the field of human rights are particularly impressive," says Provost Peter Nicholls. "We are pleased she is joining one of UConn's most vital centers, and look forward to her leadership."
Human rights are a focus of the Dodd Center, which awards the Thomas J. Dodd Prize in International Justice and Human Rights every two years. In 2011, the prize went to the Center for Justice and International Law, where Laplante was a legal intern in 1998.
"It is an honor to be asked to serve as the Dodd Center's interim director, and I am delighted to be able to contribute to the Center's important human rights work," says Laplante. "I have always been impressed by UConn's commitment to human rights, and so it is a privilege to join this exceptional community. In the coming year, I look forward to helping expand the work of the Center in order to continue promoting the vision of Senator Dodd, whose long-held dedication to human rights is very admirable."
Laplante participated in Peru's transitional justice process for five years, including as a researcher for Peru's Truth and Reconciliation Commission and a legal consultant for the Asociacion Reflexion de Inocentes Liberados (ARIL) in Lima, Peru. She was a Furman Fellow and consultant for the Lawyers Committee for Human Rights (Human Rights First) from 1999 to 2001.
She has published numerous prize-winning articles on international law and justice, as well as contributing to books and other publications on the subject.
Laplante received her undergraduate degree in public policy from Brown University; an M.Ed. in secondary education and school administration from UMass-Amherst; and a law degree from the NYU School of Law.
Laplante will be eligible to apply for the permanent position following her year as interim director.