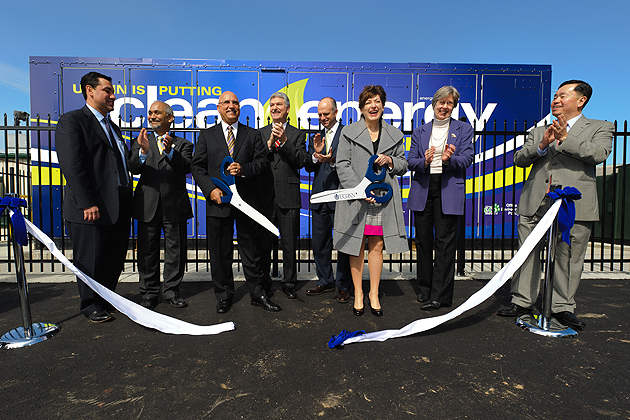 University officials, along with representatives of UTC Power and the Connecticut Clean Energy Finance and Investment Authority, today commissioned a new fuel cell power plant at UConn's Depot Campus that will supply the campus with clean and efficient energy, cooling, and heating for years to come.
The installation of a UTC Power PureCell system is the latest step by UConn to reduce its carbon footprint and build a sustainable community. The fuel cell installation was made possible through a federal stimulus grant from Connecticut's Clean Energy Finance and Investment Authority.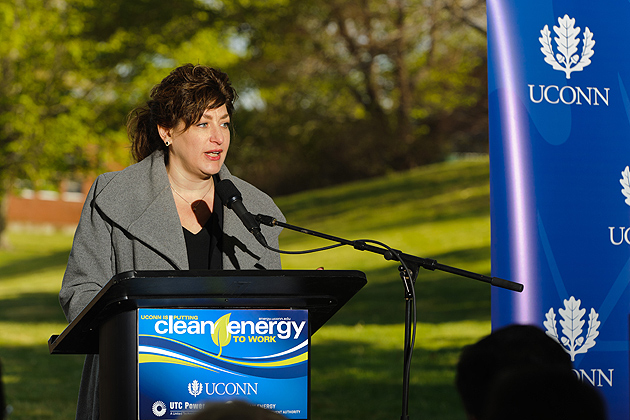 "One of our major objectives as an institution is reducing our carbon emissions and working very hard to be good stewards of the environment," said UConn President Susan Herbst. "The installation of this fuel cell is an outstanding contribution to that ongoing effort. We are very grateful to both of our partners, UTC Power and the Clean Energy Finance and Investment Authority, for making this possible. "
The 400kW fuel cell will provide energy to critical UConn research labs and offices, including those working on advancing fuel cell and microgrid technology at UConn's Center for Clean Energy Engineering.
"We are very excited to work with UTC Power on this innovative public-private partnership that will bring clean energy generation to UConn," said Mun Choi, dean of UConn's School of Engineering. "This initiative demonstrates UConn's deep commitment to sustainability and environmental stewardship."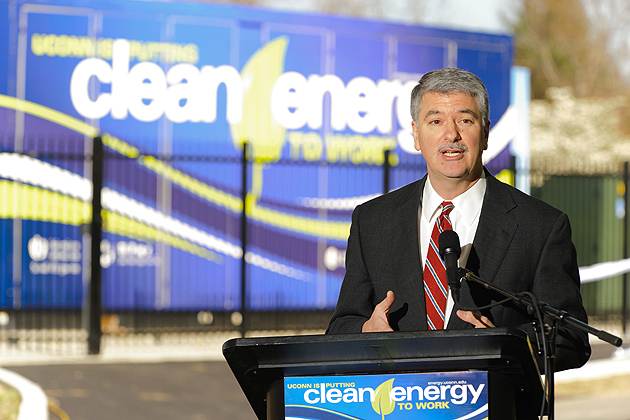 Herbst last month signed an expanded climate action plan for the University that outlines more than 200 strategies for sustainable energy and resource conservation in order to achieve a carbon-neutral Storrs campus by 2050.
UConn has been named one of the top 20 greenest schools in the nation by the Sierra Club and it was recently recognized as one of the most eco-friendly campuses on earth, according to a sustainability survey of 178 universities in 42 countries sponsored by Universitas Indonesia.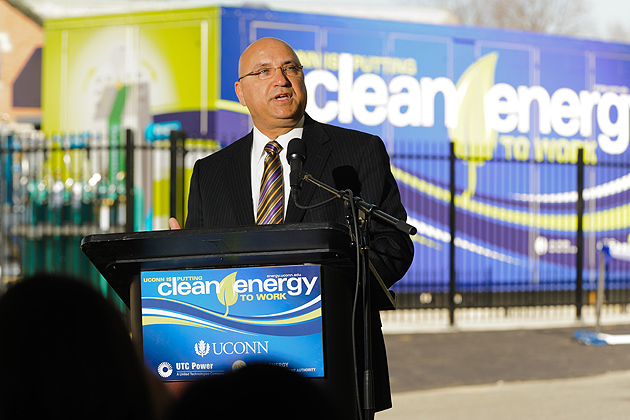 "UTC Power is proud to build upon the strong, longstanding partnership between United Technologies and UConn with the installation of a PureCell fuel cell system on campus," said Joe Triompo, vice president and general manager of UTC Power of South Windsor. "The PureCell system will deliver clean, efficient energy to the University and help meet the important goals of UConn's climate action plan. We believe the future of energy is here, and we are thrilled that our Connecticut-grown fuel cell technology will power the very buildings where UConn is conducting vital fuel cell research every day."
The PureCell system is an energy delivery solution that combines hydrogen fuel and oxygen from the air electrochemically – without combustion – to produce electricity, heat, and water. The new power plant will serve as a demonstration model and teaching tool for UConn students, helping them better understand the technology and benefits behind advanced microgrid energy systems that can deliver clean, reliable energy while protecting the environment.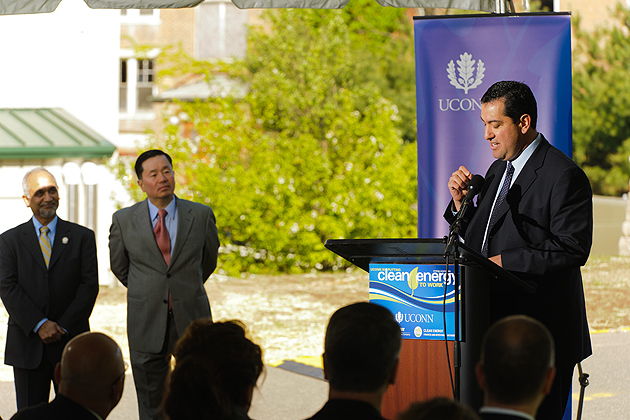 By generating and using power on-site with a PureCell system, UConn will prevent the release of more than 831 metric tons of carbon dioxide annually – the equivalent of planting more than 192 acres of trees. The reduction in nitrogen oxide emissions compared to a conventional power plant is equal to the environmental benefit of removing more than 110 cars from the road. In addition to the reduction in greenhouse gas emissions, the PureCell system saves nearly 3.9 million gallons of water each year.
"This fuel cell was supported by funding through the American Recovery and Reinvestment Act and will support energy research at the University of Connecticut and its Center for Clean Energy Engineering," said David R. Goldberg, a spokesman for the Clean Energy Finance and Investment Authority, which provided a million dollar federal stimulus grant for the new fuel cell. "This project will promote clean energy and energy efficiency, while providing energy, environmental, and economic benefits to UConn and the state of Connecticut. These benefits will be realized not just for the students and faculty today, but for many years to come."