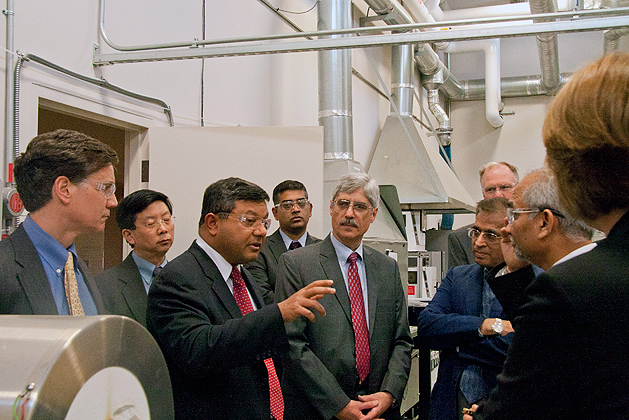 The director of the nation's only federal agency devoted to transformational energy research and development toured UConn's Center for Clean Energy Engineering at the Mansfield Depot Campus last week during a visit to the University.
Arun Majumdar currently serves as acting under secretary of energy for the U.S. Department of Energy, in addition to overseeing the Advance Research Projects Agency – Energy or ARPA-E. Created by Congress in 2007, ARPA-E's statutory goal is to invest in high-risk, potentially high-reward research to rapidly translate science into breakthrough energy technologies that enhance the United States' global competitiveness as well as its national, economic, and environmental security.
Majumdar visited UConn on May 4, prior to serving as keynote speaker for the School of Engineering's undergraduate commencement ceremony on May 5.
Joining Majumdar on the tour were the commissioner of the Connecticut Department of Energy & Environmental Protection Daniel C. Esty, and the chief executive officer of Connecticut Innovations Claire R. Leonardi, as well as several representatives of private industry in the state, including officials from UTC Power, FuelCell Energy, and others.
Noting UConn's land-grant history, Majumdar mentioned that 2012 is the 150th anniversary of the Morrill Act, which established land-grant universities in the United States, thereby increasing public education and access to important fields such as engineering and moving the country into the industrial age.
"I think now is the time for a different industrial revolution to happen, and that is in clean energy," Majumdar told the assembled body, which included many of the top researchers and department heads in UConn's School of Engineering. "I think, just like with the land-grant universities, it is time for a federal-state partnership creating a whole network of experimental stations and extension programs to get it out there. I see this as having a similar effect … we have a long road to go, but you always have to start somewhere."
After hearing brief presentations from some of UConn's top engineering researchers, Majumdar toured UConn's Center for Clean Energy Engineering (C2E2), including its state-of-the-art labs for advanced fuel cell fabrication and demonstration.
Formerly known as Connecticut's Global Fuel Cell Center, C2E2 is a multidisciplinary research, education, and outreach center focusing on sustainable energy engineering. Many of its researchers came to UConn through the Eminent Faculty Initiative in Sustainable Energy, a unique effort funded jointly by the state of Connecticut and leading energy companies. C2E2's research portfolio focuses on advanced energy conversion technologies, fuels and fuel processing, energy storage, power management, and smart grid technologies, as well as photovoltaic solar energy, chemical computational modeling, and advanced combustion technologies. The center's research has led to partnerships with private industry leaders, such as the United Technologies Corp., General Electric, Siemens, and Northeast Utilities, as well as state and federal agencies such as the U.S. Department of Energy, the U.S. Army, the Office of Naval Research, and the Connecticut Clean Energy Finance and Investment Authority.
"I hope during our tour you will see that our laboratories are second to none," said Prabhakar Singh, the center's director and the School of Engineering's UTC Professor of Fuel Cell Technology. "They are very well equipped, very well staffed, and our faculty researchers are among the best."
Kazem Kazerounian, associate dean for research and strategic initiatives in the School of Engineering, highlighted UConn's recent research expansion efforts by summarizing for Majumdar the University's plans for a new Technology Park in Storrs, its $864 million BioScience Connecticut initiative at the UConn Health Center in Farmington, and its collaborative research agreement with the world-renowned Jackson Laboratory. Those advancements, he said, coupled with the Board of Trustees' decision last year to hire 290 new professors, have created a "perfect storm" for UConn as it prepares to embark on a new mission of advanced research designed to meet both the state's and the nation's needs.