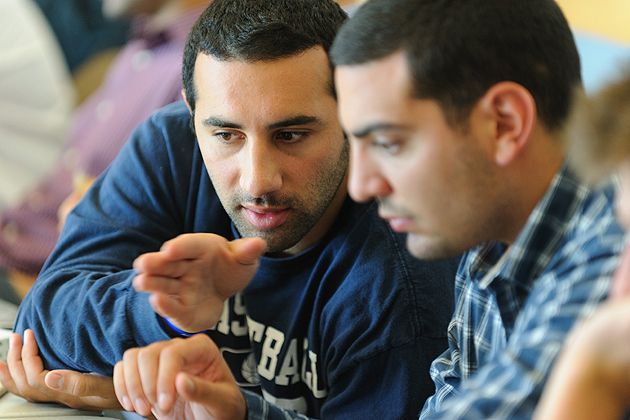 Over the past several weeks, more than a dozen UConn students and newly minted graduates have returned to campus equipped with notebooks, business plans, and entrepreneurial ambitions.
As winners and selected runners-up in this year's inaugural Innovation Quest challenge at UConn, they're now getting the equivalent of master classes from experts to help them build their businesses.
The training program, known as the inQbator, has also drawn UConn alumni who are specialists in fields ranging from entrepreneurship to patent law, who have donated their time and expertise to guide the Innovation Quest participants.
It's not a lecture series or one-sided discussions on theoretical business practices, though – quite the opposite, says Eric Knight '82 (CLAS), the inQbator coordinator and one of this year's Innovation Quest judges.
The budding business owners have been taught to develop creative and effective marketing plans, protect their intellectual property, anticipate legal snags, understand employment law, set sales and production targets, and describe their ideas in clear and convincing terms to potential investors.
"It's really a crash course in creating a business from the ground up, so we're trying to give them as much of a real-world experience as possible," says Knight, manager of the Springboard Program at UConn's Office of Technology Commercialization and an entrepreneur who's also launched several businesses.
The Innovation Quest contest was launched this year at UConn as an expansion of a competition that started almost a decade ago at California Polytechnic State University. The four winning UConn teams split $30,000 and were enrolled with selected runners-up in the intensive weekly inQbator training sessions, getting an insider's view into the practicalities of the business world from those already in its trenches.
Innovation Quest also had the enthusiastic blessing of UConn President Susan Herbst, who has engaged in a friendly wager for bragging rights against Cal Poly President Jeffrey Armstrong over which university will have the highest number of this year's startups running as companies by the time next year's Innovation Quest winners are selected.
Innovation Quest expanded to UConn at the suggestion of Keith R. Fox '80 (BUS), a longtime business entrepreneur, executive, and philanthropist who offered to sponsor this year's contest after seeing its success at Cal Poly.
Like other alumni involved in the competition, his participation didn't end when the winners' checks were handed out. He's "met" with the students in Internet video phone conversations as "I.B. Cashman," a mythical potential investor they needed to impress; and is among several who have traveled from around the U.S. to Connecticut for face-to-face mentoring.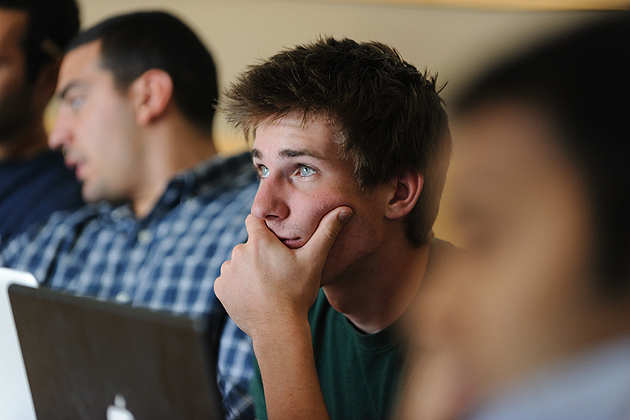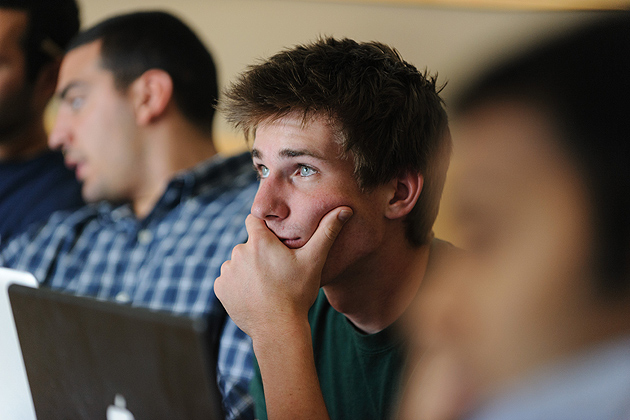 And after weeks of full-day sessions in the UConn Student Union, the entrepreneurs will be using the skills they've honed to pitch their ideas to real investors as the capstone of the training.
"Everything they've presented to us has been relevant to the ventures and maximizing the possibility of our success," says Nishang Gupta '12 (BUS), one of the participants.
"I had a lot of questions, but I didn't know before now where to seek some of the answers," he says. "That's one of the great things about the inQbator – they answer all of the questions you have, and give you answers to questions you hadn't considered but need to know about."
Gupta's team is working on the creation of an inexpensive voltage regulator, meant to help farmers in rural India continue to use their machinery without the worry of frequent power surges that can burn out their motors.
It's one example of a variety of entrepreneurial ideas represented by the Innovation Quest winners and runners-up at the training.
Some of the others include a project to build a website and mobile app to help users and publicize restaurants that specialize in their favorite foods. Another team is working on a specialized search engine that recognizes symbols such as the ampersand, Pi, and other characters as part of a search. For another group, the work includes creating an online shopping portal where consumers can combine purchasing with charitable giving.
"We've had a great learning experience from the experts and also just from bouncing ideas off one another. It's been almost like a mini-MBA [program], except that they're presenting us with the reality of how business works and not the theoretical," says Robert Foley, a Ph.D. student in genetics at UConn whose team is creating a service called SIBOP, or Situational Input Biomarker Output Pipeline.
That service was first envisioned by Craig Nelson, an associate professor in the College of Liberal Arts and Science's Department of Molecular and Cell Biology, who has been the team's adviser to help bring the idea to fruition; and Ion Mandoui, an associate professor in the Department of Computer Science & Engineering.
When launched, SIBOP is intended to serve researchers who specialize in molecular diagnostics, personalized medicine, and related fields. It will use a proprietary computer algorithm to suggest biomarkers that the researchers can use in tests to narrow down the cell types they're studying. That could speed up diagnoses and save the researchers time and money by reducing lab time, labor, and testing costs.
Knight, the inQbator coordinator who also holds the title of UConn Entrepreneur-in-Residence, says that although the students' ideas vary widely, they'll all leave the training with a solid foundation of practical knowledge so they can turn those ideas into reality.
"The prize money from the competition was just the start," Knight says. "The relationships built with these mentors will continue for years to come, and the information and help they're getting from so many experts during this training is what's really invaluable."