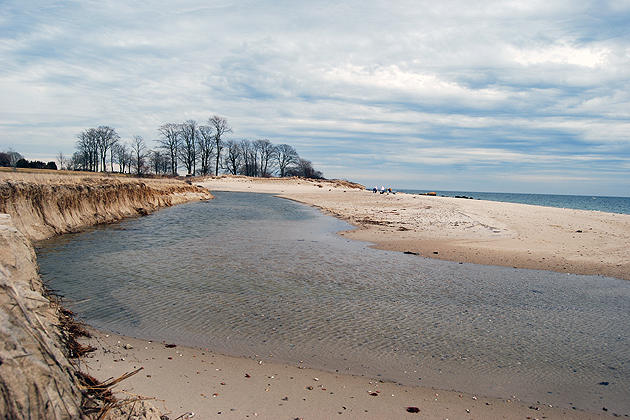 In August 2011, Tropical Storm Irene took a hard swipe at Connecticut's 350 miles of coastline, eroding dunes and redistributing sand to the extent that the state's coastline appeared to be altered. The consequences of such major weather events on Connecticut's coast, major waterways, and natural resources are easier to understand, now that historical aerial photographs of the state's coast covering the past 40 years are available online.
The new resource is the result of collaboration between UConn Libraries' Map and Geographic Information Center (MAGIC) and the Office of Long Island Sound Programs of the Connecticut Department of Energy and Environmental Protection (DEEP). For a video about the aerial photos, click here.
Since 1974, the Office of Long Island Sound Programs has conducted aerial surveys of the state's coastline approximately every five years. The photos are taken in color infrared, a format that presents vegetation as shades of red and water in black, making it easier to identify natural resources and the demarcation between water and land. They are widely used for site reviews and assessments that support permitting and planning activities, and to define and delineate the locations of coastal resources and habitats such as tidal wetlands and shorelines, and they provide a valuable time series of environmental and land use conditions.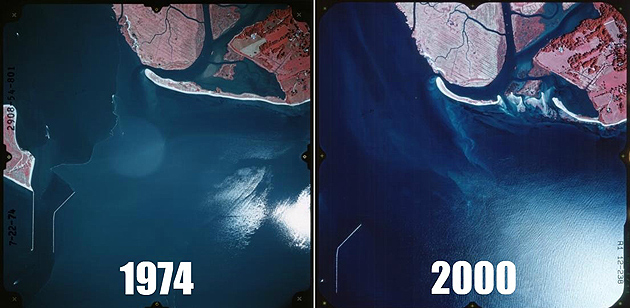 Although recent surveys from 2005 and 2010 provided digital products that could be directly integrated into online data viewers, those from 1974 to 2000 were in hard-copy format and required users to visit the Office of Long Island Sound Programs in Hartford to manually search for and view hard copies.
Three years ago, MAGIC began a project with the Office of Long Island Sound Programs to provide a better way to distribute more than 6,000 color infrared aerial photographs of the Connecticut shoreline taken from 1974 through 2000. By creating digital indexes that represent the location and extent of what the photos show on the ground and associating them with scanned images of the original photos, the indexes can leverage several ways to allow users access from their homes or offices at their convenience.
The digital indexes can be used by experienced Geographic Information System (GIS) users as "shapefiles," which can be downloaded from MAGIC and integrated with their own GIS data and systems. The shapefiles provide basic information about the photo images such as the date, time frame, and who collected it.
To assist non-GIS users, MAGIC staff developed a custom Google Maps-based interface as a map preview, to enable users to search by an address or town to locate relevant images for the area.
The scanned photo images themselves are centrally stored at MAGIC. Whether you are a GIS user or non-GIS user, the digital indexes are the underlying link that provides access to both archival-quality TIFF, and high quality – yet easy to view and print – PDF versions.
The project involved two years of work by undergraduate students and graduate geography students, including Steven Daniels, Jeffrey Dunn, Cary Lynch, and Josh Strunk, who worked with staff from the DEEP to create the indexes.
"Thanks to the countless hours of effort these students dedicated to this project, users are able to locate these aerial infrared photos in a matter of seconds, providing enhanced public access to these primary source materials," said Michael Howser, undergraduate education, geography, and geographic information systems librarian at MAGIC.
The coastal aerial surveys, and the task of creating and providing access to digital versions, were funded by NOAA's Office of Coastal Resource Management.
The Office of Long Island Sound Programs is Connecticut's coastal management office. It oversees regulatory, planning, technical assistance, outreach, and consistency activities to address a broad range of community development, economic, and natural resource issues at the state and local level within the state's 36 coastal communities.
"The ability to assess site conditions remotely and examine how resources change over time is important to so many of our activities here at DEEP, and applies equally to other sectors such as academia, local governments, and businesses," said Kevin O'Brien, an environmental analyst from the Office of Long Island Sound Programs who led the aerial indexing project. "These sets of photos are a critical resource, and we are pleased that this partnership with MAGIC will help expose them to a broader community. Additionally, one of the major goals of DEEP is to provide more effective and efficient services, and the result of this effort is an excellent example."
The digital indexes are available to the public from the MAGIC GIS data page, and users can view individual aerial images through downloadable GIS datasets as well as with Google Earth-friendly KML files and a custom interactive map interface.
The indexes are also available via the Connecticut Environmental Conditions Online website.
MAGIC collects and provides access to maps, atlases, gazetteers, aerial photographs, and digital geospatial data pertaining to the state of Connecticut, New England, and the world. MAGIC digitizes public-domain and copyright-free maps and resources in order to offer researchers digital access to these resources.