The Board of Trustees voted last week to name two Storrs campus buildings in honor of former President Philip E. Austin and former Board Chair John W. Rowe. The College of Liberal Arts and Sciences Building will be renamed the Philip E. Austin Building, and the Center for Undergraduate Education Building will be renamed the John W. Rowe Center for Undergraduate Education.
"Both of these individuals played pivotal roles in the extraordinary achievements UConn has seen over the last two decades," said Board Chair Lawrence McHugh. "They are two of the most important figures in the long history of this University, and are highly deserving of these honors."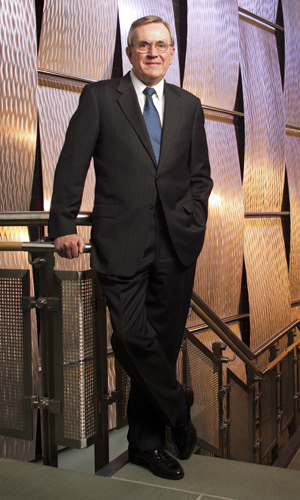 Austin served as UConn's president from October 1996 to September 2007, a period of unprecedented growth at the University. During his tenure, he oversaw unparalleled enrollment growth coupled with an increased reputation for academic excellence. In addition to overseeing the massive $1 billion UConn 2000 construction and renovation program – which transformed the physical campus – he also led the drive for phase two of the effort, the $1.3 billion 21st Century UConn program.
"Dr. Austin took an outdated campus and transformed it into a vibrant contemporary place marked for research excellence, competitive with the better state schools, attracting the best students, and attaining national attention in intercollegiate sports," wrote UConn President Susan Herbst in a letter to trustees recommending the naming. "He boosted the morale of the students, faculty, and staff through extraordinary improvements of the campus through the UConn 2000 projects. Dr. Austin also helped to bring in a $110 million increase in research awards and led a successful fundraising campaign of $300 million."
After stepping down as president, Austin served as a tenured faculty member at the University, teaching courses in higher education leadership. He has also participated in accreditation and other activities of the New England Association of Schools and Colleges and the National Collegiate Athletic Association on behalf of the University.
At the request of the Board of Trustees, Austin agreed to serve as interim president from May 2010 through June 2011, and later as interim vice president for health affairs at the UConn Health Center.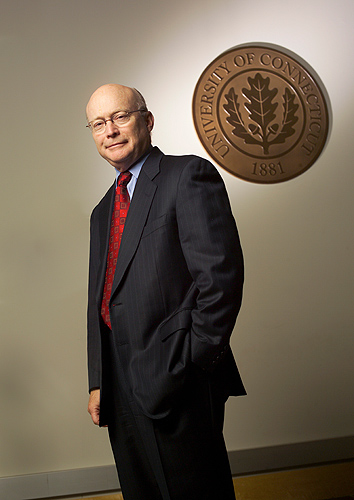 John W. Rowe MD served as chairman of the University of Connecticut's Board of Trustees from July 2003 through 2009, succeeding Roger Gelfenbien. During his tenure as chairman, he presided over the expansion of the University's physical environment, a period of enrollment growth, and increase in the University's national stature.
Rowe received his medical degree from the University of Rochester in 1970, and was president of the Mount Sinai Hospital and Mount Sinai School of Medicine from 1988 to 1998, and president and chief executive officer of Mount Sinai NYU Health from 1998 to 2000. In 2000, he became chairman and CEO of Aetna Inc. He is currently a professor at Columbia University in the Health Policy and Management Department. Rowe has received many academic awards and honors, and has distinguished himself as one of the nation's outstanding medical researchers.
"Since his departure as board chairman, Dr. Rowe continues to show his commitment to the University community and has made a significant contribution to the Honors Program, establishing the John and Valerie Rowe Health Professions Scholars Program in 2005," wrote Herbst. "He believes in giving back 'to give disadvantaged students who are academically talented the opportunity to reach their full potential'."
The Center for Undergraduate Education (CUE) houses various academic support departments, including the Honors Program.