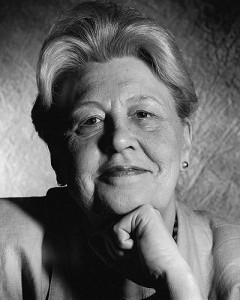 Eleanor Krohn Herrmann, an esteemed UConn School of Nursing professor emerita and co-curator of its Josephine Dolan Collection of Nursing History, has died at age 77.
Herrmann died July 31 at home in Cheshire, where she and her husband Lawrence have lived since 1977. Funeral services are planned on Saturday, Aug. 11, at 1 p.m., at the John J. Ferry & Sons Funeral Home in Meriden.
The UConn School of Nursing also plans to hold a public memorial on campus this fall to celebrate Herrmann's life, her role as a teacher and mentor, and her dedication to developing a premier collection of artifacts for UConn on nursing history and leadership.
"Eleanor's legacy will live on through her students and through the Eleanor Krohn Herrmann Reading Room in the school's new Carolyn Ladd Widmer Wing, which opens this month," says Regina Cusson interim dean of the School of Nursing. "She will be sorely missed."
Herrmann was born in New York City on Feb. 1, 1935, and grew up in Great Barrington, Mass. It was there, she once said, that she became aware of the importance of history as she rode her bicycle along the path that American revolutionary Daniel Shays traveled to participate in the Boston Tea Party.
Her father, Martin Krohn, died in a farming accident when she was 14, but her mother, Ellen (Polson) Krohn, influenced her and her siblings to value education, a principle she passed along throughout her lifetime to her students.
Herrmann received her bachelor's degree in nursing from Adelphi University in New York, her master's from the University of Colorado, and her master's and doctoral degrees in education from the Teachers College of Columbia University.
Herrmann retired from UConn in 1997 but remained active with the School of Nursing, including her role as co-curator of the history collection that was compiled largely by her friend Josephine Dolan, the school's first instructor.
Mary Ann Cordeau, who received her Ph.D. in nursing at UConn in 2004 and is co-curator of the Dolan Collection, says Herrmann's devotion to preserving the history of nursing is a significant and lasting contribution to the profession.
In addition to UConn, Herrmann taught at Yale, Cornell, Syracuse, and the universities of Wyoming and Colorado. She also held a deep commitment to social justice, and had ongoing relationships with nursing education and professional development groups in several countries in Central and South America.
Herrmann was a charter member of the American Association for the History of Nursing, was one of its past presidents, and served on editorial boards and review panels for several professional journals. She also was a member of Sigma Theta Tau Nursing Honor Society; a fellow of the American Academy of Nursing, Cheshire Historical Society; Women's Auxiliary, Silver City Detachment Marine Corps League; and the Standardbred Retirement Foundation.
In addition to her husband, Herrmann is survived by a sister, a brother and his wife, five nephews, and her rescue dog, Phoebe.
Family and friends may call at the John J. Ferry & Sons Funeral Home, 88 East Main Street, Meriden, CT 06450 on Saturday, Aug. 11, from 10 a.m. to 1 p.m. A funeral service will be held at 1 p.m. with her husband Lawrence officiating. Burial will be on Monday, Aug. 13 at 1 p.m. in Elmwood Cemetery in Great Barrington, Mass.
In lieu of flowers, memorial contributions may be made to: Eleanor Krohn Herrmann Reading Room, UConn School of Nursing, c/o UConn Foundation, 2390 Alumni Drive, Storrs, CT 06269; or the Eleanor Krohn Herrmann Keynote Speakers Fund, c/o American Association for the History of Nursing, 10200 West 44th Ave, Suite 304, Wheat Ridge, CO 80033.
Online condolences may also be posted at the funeral home's site at www.jferryfh.com.