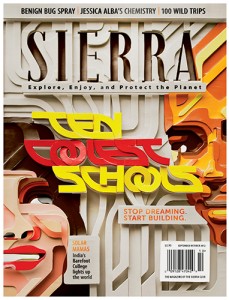 The Sierra Club has selected the University of Connecticut as one of its top 10 "Cool Schools" for 2012 in recognition of UConn's commitment to sustainability, environmental initiatives, and excellence in sustainability-focused academics. UConn ranks 5th on the list of more than 2,000 eligible colleges and universities in the United States, up from 16th in 2011. The top 10 "Cool Schools" for 2012 were:
University of California, Davis
Georgia Institute of Technology
Stanford University
University of Washington
University of Connecticut
University of New Hampshire
Duke University
Yale University
University of California, Irvine
Appalachian State University
The Sierra Club, the largest environmental grassroots organization in the United States, ranks schools based on sustainability data collected in several subject areas, including energy supply, efficiency, food, academics, purchasing, transportation, waste management, administration, and financial investments.
"UConn's top five ranking underscores how sustainability has become part of the culture on our campus, and we're pleased to be recognized for our efforts," says UConn President Susan Herbst. "As a land and sea grant university, excellent environmental stewardship is one of our fundamental values."
The 2012 "Cool Schools" ranking by the Sierra Club is the sixth annual list published in its magazine, Sierra. The survey is open to all four-year undergraduate colleges and universities in the United States.
As a land and sea grant university, excellent environmental stewardship is one of our fundamental values.
This year, the Sierra Club significantly revised and expanded its survey for consistency with a detailed, standardized format developed by the Association for the Advancement of Sustainability in Higher Education. UConn's Office of Environmental Policy gathered data from many operational and academic departments, then organized and summarized the University's response into the nearly 300-page online format.
"It was a very comprehensive survey and compiling the data helped us appreciate how widespread the commitment to environmental awareness and sustainability is at UConn," says Rich Miller, director of the Office of Environmental Policy.
UConn was singled out for advances in the recycling programs on campus. For example, since constructing and opening a state-of-the-art agricultural and landscaping waste composting facility in 2010, the University has added in-kitchen decomposers in three of its dining halls (soon to be five) which effectively decompose food waste food waste overnight. These in-kitchen units are about the size of a small freezer and produce a compost-like material which is then used as a soil amendment and as an experimental feedstock for an energy-producing bio-gasification unit on campus. Additionally, there are several reuse and donation programs in place, such as the sneaker recycling drive, which annually collects up to 5,000 pounds of shoes for reuse and recycling, and the Give and Go program, which collects about 12,000 pounds of furniture, appliances, toiletries, and more during spring move-out, for donation to several local charities.
Other developments this past year that improved UConn's ranking include progress on energy and transportation initiatives that not only implement UConn's 2010 Climate Action Plan but also represent substantial ongoing cost savings. These include:
Completing "retro-commissioning" projects at 13 campus buildings (the process of measuring and improving each building's HVAC systems to ensure that they are operating at maximum efficiency), and replacing the lighting systems at 73 buildings – together, these measures will annually reduce 5,000 ton of greenhouse gas emissions while saving $1 million in energy costs.
Installing a new 400 kW UTC Power fuel cell, which uses a catalytic process instead of combustion to generate electricity and heat for several campus buildings – this reduces long-term energy costs while annually avoiding more than 800 tons of greenhouse gas emissions and saving more than 3 million gallons of cooling water that would be required to produce the same amount of energy through conventional means.
Using a $75,000 grant to purchase its first all-electric fleet vehicle – this replaced a 10-year old truck for daily campus deliveries. The EV is recharged each night at an on-campus charging station that was donated by Connecticut Light & Power, saving fuel costs and cutting emissions compared to the diesel truck that it replaced.
Also this past year, President Herbst signed a pledge reaffirming the University's commitment to its 2010 Climate Action Plan. UConn became the first college in the nation to include a Climate Adaptation Section in its plan. Along with the plan's more than 200 action items for reducing UConn's carbon footprint, the new Adaptation Section details how the University will strengthen its role as a resource to state and local governments and others in forecasting the impact of climate change and better preparing communities for managing climate risks, such as sea level rise and extreme weather patterns. The signing ceremony kicked off a highly-successful week-long series of Climate Impact Mitigation and Adaptation events that further raised awareness among students, faculty, staff, and community members.
"With these changes and more detailed in the 2012 report, UConn stepped to the forefront of campus sustainability, particularly in energy efficiency and green technology," says Miller. "The number five ranking is positive feedback that will motivate us to set our sights even higher."