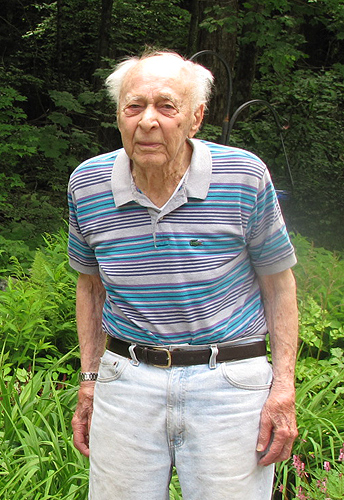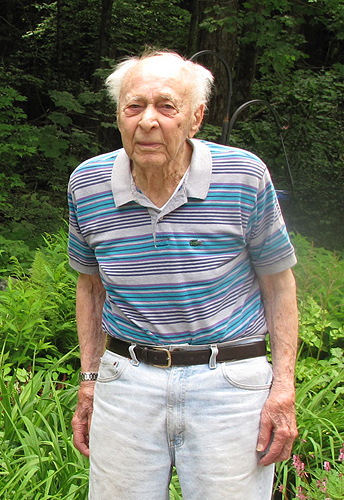 For more than 30 years, UConn was home to a psychology professor who has been cited as one of the 100 most eminent psychologists of the 20th century.
Julian Rotter, renowned for his theories about social learning and locus of control, was hired in 1963 by then-President Homer Babbidge as part of Babbidge's plan to build a strong psychology program at the University.
Psychology has long been recognized as one of UConn's leading departments, and is currently ranked third in the nation in R&D expenditures among all U.S. psychology departments. And Rotter's theories remain firmly in place in the lexicon of clinical psychology.
Rotter, professor emeritus of psychology in the College of Liberal Arts and Sciences, retired at age 70, but continued to teach at UConn until he was 80. He will celebrate his 96th birthday in October.
He began his teaching career at UConn in 1963 after a successful 17-year career at the Ohio State University. His seminal work Social Learning and Clinical Psychology was published in 1954.
As to what led him to leave Columbus, OH, for Storrs, Conn. nearly half a century ago, Rotter says succinctly, "I left Ohio State to come to UConn because Homer Babbidge wanted me to. He had heard about my work and he wanted [to develop] a strong psychology program. My wife was originally from Massachusetts, and moving here seemed like a good thing to do. I had lots of opportunities to go elsewhere over the years, but I stayed [at UConn] because I loved doing my research and I loved working with the graduate students."
Locus of Control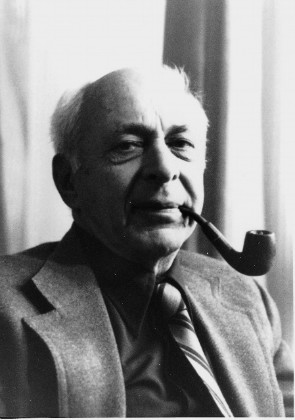 The work that caught the attention of Babbidge, and the research that resulted in Rotter being named one of the most important psychologists of the 20th century by the American Psychological Association, was his concept of 'locus of control.'
Locus of control is the extent to which people learn tasks and perform differently when they view reinforcements as being either related or unrelated to their own behavior. Rotter developed an assessment tool, the I-E scale, that measures an individual's perception of control along a continuum where internally controlled individuals (I) assume that their own behaviors and actions are responsible for what happens to them, whereas externally controlled individuals (E) believe that control is in the hands of other people and/or outside events.
The scale, published in the journal Psychological Monographs in 1966, is still a widely used research tool. It shows that internality tends to increase with age, becoming stable in middle age, and not diminishing in old age. The latter finding indicates that a popularly held perception that the elderly become intellectually dependent upon others as they age is not necessarily true.
While 'locus of control' is most often cited as Rotter's preeminent contribution to the field of clinical psychology, he begs to differ. "I've always considered my social learning theory my most important contribution," he says, "even though locus of control has gotten more recognition."
He explains that he's always considered himself more of a personality theorist than a clinical psychologist, and his ideas about social learning focus on the interaction of individuals with their environment. He sees personality as changeable in the face of personal experiences that alter a person's perceptions throughout his or her lifetime.
One of Rotter's former graduate students, Marianne Barton, associate clinical professor, director of clinical training, and director of the psychological services clinic in UConn's psychology department, has yet another take on Rotter's various contributions to the field of clinical psychology.
"Jules attended the Boulder Conference in 1949 to help design a training model for clinical psychology that incorporated both research and clinical experience. It is a scientist-practitioner model and it has been the prevailing model in the field for 50 years or more," she notes. "More recently there's been a shift toward training as either a scientist or a clinician, and I'm sure that's a disappointment to him. But the early work he did has been immensely important and continues to be to this day."
Focus on Graduate Education
The American Psychological Association recognized Rotter's accomplishments in 1989 with its Distinguished Scientific Contribution award.
One person not to ask about the importance of his accomplishments, however, is Rotter himself. "I'm really not concerned about how the rest of the world sees me," he says, "I'm just interested in doing what I do. I always had a bunch of graduate students working on their dissertations and that's what I enjoyed, along with my research. There's this perception of going up in the world [when you get recognition], but in reality you're not going anywhere important."
When I was a student at UConn, I learned a lot of things from Jules that are as relevant today as they were when I first learned them.
Someone who benefited from Rotter's devotion to his graduate students is Susan Zlotlow, director, program consultation & accreditation, for the American Psychological Association. She says that among psychologists, "We often look at our professional genealogy. One of the markers is the number of generations removed from Jules. Because of my job I work with psychologists involved in education all across the U.S. and Canada, and it seems like no matter where I go, there are stories about how Julian Rotter has influenced the lives and careers of psychologists everywhere."
Another former student who makes good use of the skills he learned from Rotter is Jack Mearns, professor and chair of the department of psychology at California State University, Fullerton.
"When I was a student at UConn I learned a lot of things from Jules that are as relevant today as they were when I first learned them," Mearns says. "I learned about test construction, the theoretical and methodical considerations to use when making a personality test, the whole idea of constructing tests using a conceptual framework. One of his main ideas is there is no substitute for thinking theoretically; statistics can never take the place of logic.
"One of the great things about social learning theory is that it has its basis in common sense," Mearns adds. "It looks simple, but it allows you to make complex connections between many variables."
The former grad student also mentions one area of expertise where even Rotter strays a bit from his usual modest demeanor and allows a hint of pride to enter the conversation.
"He was a fantastic tennis player," Mearns says, "he put a spin on his shots … put them all over the court … he ran people ragged. It was an honor if you got to play him, but he didn't show any mercy."
To which Rotter adds, "Up until I was 80, I played tennis or handball or squash, winter or summer, at least three times a week. For years I was the best tennis player on campus. You can ask anyone."
For further information about Julian Rotter and social learning theory, visit the following website http://psych.fullerton.edu/jmearns/rotter.htm