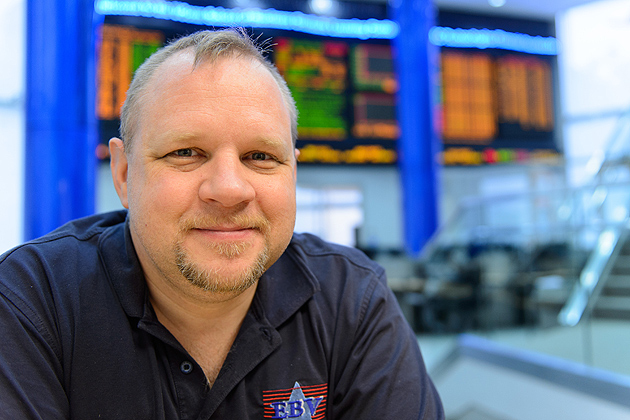 A decorated Marine who runs the University of Connecticut's program to help other military members become entrepreneurs has been appointed to lead veterans' outreach and support initiatives at the School of Business.
Michael Zacchea, a Purple Heart and Bronze Star recipient who holds an MBA from UConn, is coordinating programs to recruit and support veterans and help them with job placement, continuing education, career planning, and other services.
Zacchea also continues in his role as director of the Entrepreneurship Bootcamp for Veterans with Disabilities, which welcomes a new group of participants to UConn this month.
UConn is among eight prominent business schools offering the bootcamp in collaboration with the Whitman School of Management at Syracuse University.
"We are thrilled to have Mike Zacchea on board for this very important post. His outreach to the veteran community is vital to our continued support of veterans in regard to continuing education and job placement," says James R. Lowe, assistant dean of the UConn School of Business.
"This, coupled with Mike's leadership of the Entrepreneurship Bootcamp for Veterans with Disabilities (EBV), completes a robust offering of services to this valued community," Lowe says.
Zacchea, a native of Long Island, N.Y., who now lives in Brookfield, will work with programs and veterans at all of UConn's campuses.
Zacchea also received the U.S. Small Business Administration's award as 2012 Veteran Small Business Champion of the Year for his work with the Entrepreneurship Bootcamp for Veterans with Disabilities.
"I'm very happy to tell the story about UConn and its service to veterans because UConn has been so good to me in terms of returning and re-integrating and planning my future," he says.
"We're doing so much at UConn to re-engineer the student veterans' experience and recognize them as a specific constituency with unique needs," he says. "Both UConn and Connecticut as a whole have a story to tell returning veterans about their opportunities here and the support we can provide."
Zacchea was commissioned a 2nd lieutenant in the U.S. Marine Corps in 1990, and served in Somalia and Haiti before being deployed in 2004 as a major to Iraq for Operation Iraqi Freedom II.
His team and the Iraqi army battalion it trained were involved in heavy combat many times. In one incident he was wounded by a rocket-propelled grenade and received shrapnel in his shoulder and a traumatic brain injury, which required him to undergo several years of rehabilitation.
His military awards include the Bronze Star Medal for Valor, the Purple Heart Medal, a Navy and Marine Corps Achievement Medal, a Combat Action Ribbon, and many unit and campaign awards.
Zacchea, who held a master's degree from Hawaii Pacific University and a bachelor's from Notre Dame, earned his MBA in May from UConn, and has been active in veterans' groups on campus, statewide, and nationally.
He was an analyst for Morgan Stanley before enrolling in UConn's MBA program, where he specialized in entrepreneurial marketing.
He says some specific goals in his new position with the School of Business include creating coherent policies to help veterans locate educational opportunities, job training, and other services they need.
He also wants to advocate for creating certain non-degree certificate programs to help veterans bolster their knowledge and give them an edge in the job market, and to work with others at UConn to in its efforts to offer strong support to veterans throughout their college careers and once they are alumni.