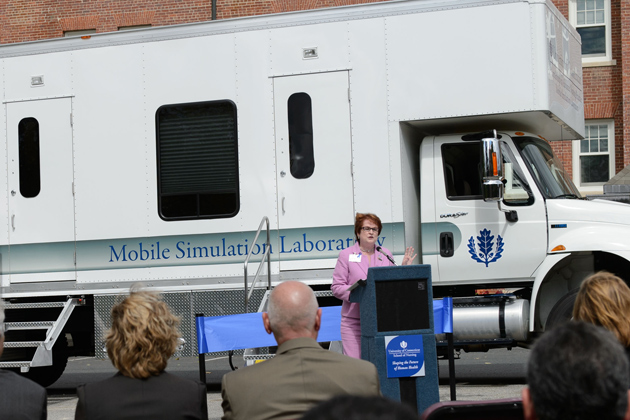 A state-of-the-art vehicle that will provide on-site professional training for Connecticut's correctional facility nurses is about to hit the road through an initiative led by the UConn School of Nursing.
A ribbon-cutting ceremony was held at the School of Nursing today to place the 40-foot vehicle into service.
It is the only such correctional nursing simulation van operating in the U.S., and UConn hopes to make it a nationwide model.
The van and the UConn-led training sessions for the prison nurses are fully funded with a $1.1 million grant from the U.S. Health Resources and Services Administration. It was awarded to UConn through the work of Deborah Shelton, a former UConn nursing professor, who proposed the partnership with the Department of Correction (DOC) and the Correctional Managed Health Care (CMHC) Division of the UConn Health Center.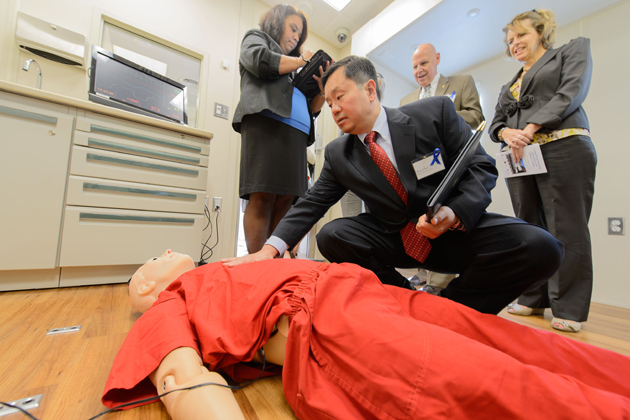 The vehicle includes a multitude of simulation features to let UConn faculty provide on-site training for prison nurses at their correctional facilities, resolving limits on time, space, and staffing that can complicate those professional development efforts.
"When nurses go inside, the van's features simulate what they would find in a health unit in a prison," says Shelton, who was also previously director for research and evaluation for Correctional Managed Health Care. She is now an endowed professor and associate dean for research and nursing Ph.D. programs at West Virginia University.
"The goal is to increase the quality of care," she says. "The retention of correctional facility nurses should increase, costs should decrease, and the whole system will continue to improve."
The correctional nurses provide services at 16 Department of Corrections facilities statewide through Correctional Managed Health Care, which provides all medical, mental health, pharmacy, and dental services for the approximately 18,700 people who are incarcerated or in halfway houses in Connecticut.
The division employs about 17 advanced practice registered nurses, 206 registered nurses, 113 licensed practical nurses, 22 nurse clinicians, 18 nursing supervisors, and 63 per diem nurses.
The new UConn-CMHC-DOC correctional nursing simulation van will allow instructors from the School of Nursing to provide on-site training to nurses, saving them the need to travel elsewhere for practice in handling a variety of possible patient care scenarios. Trainers are also based at the prisons to help nurses prepare for validation of nursing competencies on the van.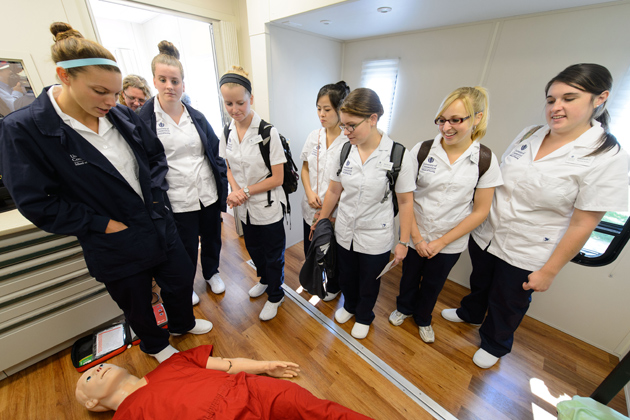 Correctional facility nurses can go online for self-paced training to prepare for the on-site sessions. When the van arrives, they go inside in groups for mock emergencies simulated with high-tech mannequins and other medical equipment.
Then they get feedback while watching a video of their session. Their activities are documented in a computerized portfolio system, and they are awarded continuing education credits before leaving the van.
"We expect them to return to work refreshed and energized," Shelton says.
Continuing education is critical for correctional facility nurses because they work with a population whose rates of medical and psychiatric diseases are significantly higher than those in the community. Almost half of Connecticut's inmates were on medications as of June 2011, and every newly admitted inmate requires a medical and mental health screening.
The ongoing training available with the correctional nursing simulation van also will help ensure that Connecticut meets the U.S. Supreme Court's mandate to states to provide prisoners with health care equivalent to the community standard.
The commissioner of the state Department of Correction, Leo C. Arnone, says, "This innovation will contribute to the continuing professional development of our correctional nursing staff and is crucial to our mission, as they are the front line medical providers within the state's correctional facilities."