A year ago, an unseasonal snowstorm on Oct. 29  caused widespread destruction to Connecticut's trees and a significant disruption to the state's power grid. This month, the UConn Libraries pause to appreciate arboreal aesthetics by hosting two tree-related art exhibits and a guided tour of the notable trees on campus.
The exhibit, which will run from Oct. 28 through Feb. 22, will open with a reception from 2 p.m. to 4 p.m. on Sunday at the Homer Babbidge Library. The guided tour precedes the opening and will leave from the library at 1 p.m.
City Bench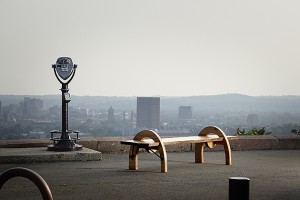 Inspired by a passion for creating beautiful objects with meaning, soul, and a story,brothers Ted and Zeb Esselstyn began City Bench in 2009. The Esselstyns, both Connecticut residents, extend the life of grand, historic trees that have been felled by transforming them into hand-crafted furniture with a story. Each piece bears a "birth certificate" describing the tree's origin, significance, and story. They have created pieces using salvaged trees from the grounds of Yale University, Connecticut College, and Trinity College.
Ted Esselstyn is an artist and furniture maker. For years his art has enlivened children's spaces in public libraries throughout the northeast, as well as nature centers, hospitals and hands-on children's museums. It was while working on an exhibit depicting our increasingly "throw-away society," that the idea for creating handcrafted furniture from trees was inspired.
Zeb Esselstyn has been a builder, coordinated rock concerts, managed book tours, worked in the advertising business and on film sets, and led trips for Outward Bound and the National Outdoor Leadership School. Most recently he has worked as a freelance journalist.
Bryan Nash Gill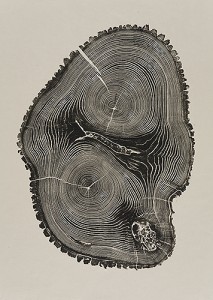 Gill has spent more than a decade creating large scale relief prints from the cross-sections of trees. Much of the work featured in this exhibition is from his new book "Woodcut," published by Princeton Architectural Press, which will be available for purchase at the opening reception.
Recipient of a B.F.A. degree from Tulane University and an M.F.A. degree from the California College of Arts and Crafts, Gill has shown his work at galleries across the United States, and had solo shows at the New Britain Museum of American Art, the DeCordova Museum and Sculpture Park in Lincoln, Mass., and at the Benton Museum on the Storrs campus. Among his many honors, he was commissioned to create an installation for the American Pavilion at the Japanese World's Fair in Aichi, Japan, in 2005.
From the studio at his home in New Hartford, Conn, Gill works mainly with bronze, wood, and hundreds of found objects for use in abstract sculpture, installations, bronzes, etchings, and prints.
 Campus Tree Tour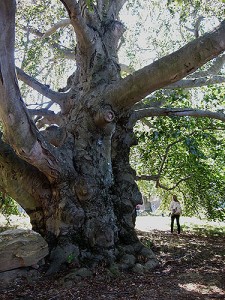 Mark Brand, professor of Horticulture, Plant Science and Landscape Architecture (College of Agriculture and Natural Resources), and Gregory Anderson, Professor Emeritus, Ecology and Evolutionary Biology (College of Liberal Arts and Sciences), co-chairs of the University's Arboretum Committee, will lead a tour of notable trees on campus.
Among the trees included on the tour are a European Copper Beech Fagus sylvatica 'Atropunicea' whose trunk measures over 20 feet in diameter and that looks like a giant elephant leg; an Umbrella Pine, Sciadopitys verticillata, an evergreen native to Japan, planted by the class of 1935, which sports long, prehistoric looking stout needles held in whorls at the end of the stems, and a large Chinese Quince, Pseudocydonia sinensis, sporting attractive multicolored bark on a fluted trunk and large pear-like fruits.
In the event of inclement weather, Brand will speak about his research into the native plant, chokeberries or aronia, in Babbidge Library. Aronia's purple black berries are high in anti-oxidents and Brand is studying ways in which to maximize the form, flavor, and function of the berries in an effort to put it in league with other native, fruit-bearing plants, such as cranberries and blueberries.
___________________________________________
The reception on Sunday, Oct. 28 is free and open to the public.
Live music will be provided by the "Zachenski Brothers," featuring Gregory Zaluski on guitar and UConn alumnus Jeffrey Chen on cello.