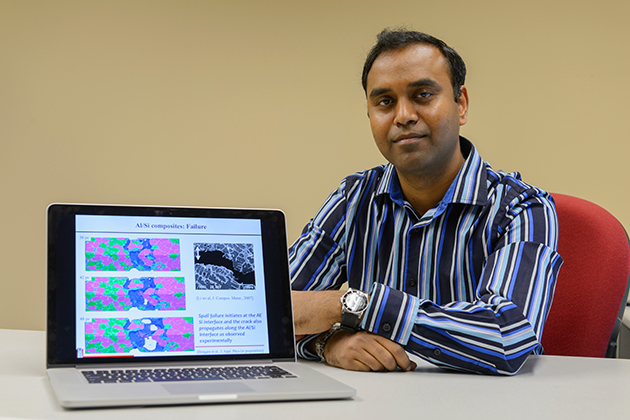 As scientists across the country work to unlock the potential of new materials as part of President Obama's Materials Genome Initiative, materials modeling experts like Avinash Dongare are in high demand.
Dongare uses his skills in computational materials science to delve deep into the atomic microstructure of materials to find the optimal mix of components experimental scientists need to build stronger, faster, lighter, and more resilient steels, plastics, ceramics, and other materials.
Using advanced algorithms, Dongare's computer simulations screen out weaker or more problematic structures in a fraction of the time and at a fraction of the cost of traditional methods.
"To run an experiment and do analysis costs a lot of money and a lot of time," says Dongare, one of eight new tenure-track professors brought in to UConn's School of Engineering this year as part of President Susan Herbst's Faculty 500 initiative. "And it's very difficult to identify individual processes at the atomic level, because researchers often don't have that kind of equipment.
"By running simulations on a computer, we can try all the different possible combinations of a material and test them in different environments at the atomic scale in order to predict their behavior and weed out the good and the bad," says Dongare, an assistant professor in the Department of Chemical, Materials, & Biomolecular Engineering, who also will be associated with UConn's Institute of Materials Science. "That way, we can go back to the experimenter and say, 'You want to develop your material this way because this way will work.'"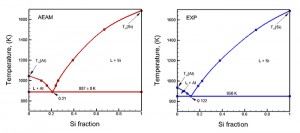 The Faculty 500 initiative that brought Dongare to UConn is expected to add 500 professors at the University over the next four years in order to bolster UConn's standing as a top public research institution and strengthen its academic core. A total of 18 new tenure-track and tenured faculty are expected in the School of Engineering by the fall of 2013.
"We are particularly excited by Avinash's research in using computational methods to investigate the behavior and properties of novel materials," says Professor Douglas Cooper, interim head of the Department of Chemical, Materials, & Biomolecular Engineering. "We expect his work to have an impact on the development of next-generation high-tech materials for automotive, aerospace, manufacturing, and energy technologies. He is a thought leader, who can collaborate with Connecticut industries to improve competitiveness and create jobs."
Dongare is particularly adept at developing computational tools for hybrid materials, which are widely used in materials science today.
"A lot of studies using simulations have been done using only metallic systems. And a lot of studies have involved only ceramic systems," Dongare says. "The problem is a lot of new materials are being developed that are combinations of these. They might involve a metal that has been reinforced with some ceramics or vice versa, so it's a multi-component system. Basically, what I did was take a concept that works for metallic systems and one that works for ceramic systems and I found a way for them to talk to each other. There has been almost no modeling in that area."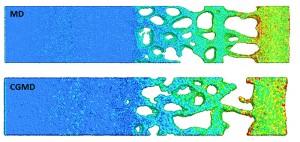 Prior to coming to UConn, Dongare served as a senior research associate at North Carolina State University, where he was part of a team of researchers developing computer simulations to help scientists identify current degradation mechanisms and provide solutions that will extend the life of the nation's nuclear reactors.  This Consortium for Advanced Simulation of Light Water Reactors, or CASL, was the first national energy innovation hub supported by the U.S. Department of Energy.
Dongare earned his Ph.D. in materials science and engineering at the University of Virginia, Charlottesville in 2008. In 2007, he obtained a prestigious three-year National Research Council fellowship at the U.S. Army Research Office, where he helped develop material models for advanced ballistics and the next generation of military hardware.
Coming to UConn, Dongare says, was a perfect fit for his current career track. Dongare said the University's plans for a new technology park and its strong relationship with state industrial leaders – exemplified by its Pratt & Whitney Center of Excellence and recently announced advanced technology partnership with GE – reflect UConn's commitment to excellence and its rising status as a major research institution.
"UConn is a growing university that offers me a great place to grow as well," Dongare says. "I look forward to working with UConn's experimental scientists to expand the University's research capabilities and those of its corporate partners."
Experimentalists have been designing new materials by themselves for the last two decades, now we have the capabilities to help them.
Dongare says this is a particularly exciting time in the materials science field. Advancements in nanotechnology have opened the way for a new generation of advanced materials that will be unlike anything seen before. Traditionally, the development of new materials has been stymied by the enormous amount of time – decades usually – and money necessary to bring them from the laboratory to the commercial market.
Last year, President Obama pushed scientists to double the speed at which new materials are developed with the launch of his Materials Genome Initiative. The initiative, like its biological counterpart the Human Genome Project, challenged researchers to unlock the potential of new materials through the development of new computational tools, software, and databases that will speed up the discovery process and help maintain America's competitiveness in the global economy.
"This is a very exciting time to be in the materials science community," Dongare says. "Things are changing as we speak: cars are faster, lighter, and more efficient, computers are faster and cheaper. The better simulation capabilities you have, the faster your evolution capabilities are in terms of technology. Experimentalists have been designing new materials by themselves for the last two decades, now we have the capabilities to help them."