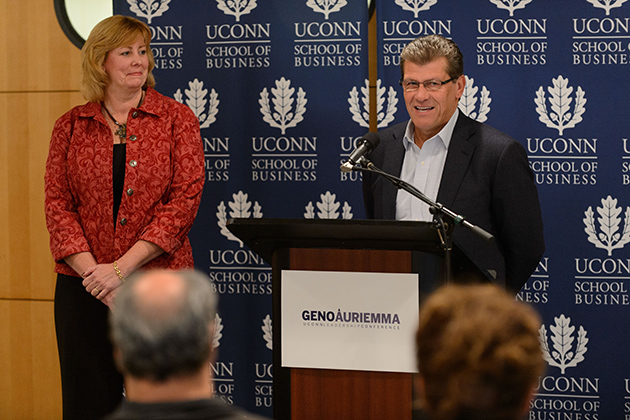 In a joint announcement this morning, the University of Connecticut School of Business and UConn Women's Basketball Head Coach Geno Auriemma announced the establishment of the Geno Auriemma UConn Leadership Conference, a program designed to blend best practices with creative, effective approaches to today's business challenges and opportunities. The inaugural event will take place on April 29 and 30, 2013 at the Mohegan Sun Convention Center in Uncasville, Conn.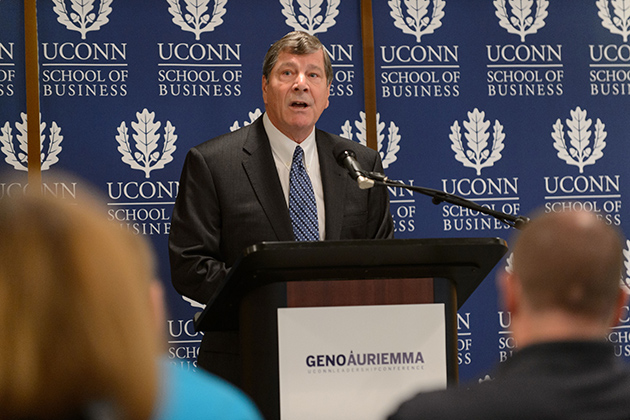 Auriemma was joined by UConn President Susan Herbst, School of Business faculty, staff, and students, and representatives from corporate partners, including Walmart, in announcing the innovative leadership training initiative that will bear his name.
A member of the Naismith Memorial Basketball Hall of Fame, the Women's Basketball Hall of Fame, and coach of the 2012 Olympic gold medal-winning U.S. Women's Basketball team, Auriemma has coached the UConn women's basketball team to seven national titles during his tenure in Storrs. Under his guidance UConn's program has been established as the preeminent women's basketball team in the nation, both on the court and in the classroom.
"Being passionate about leadership and sustaining excellence," Auriemma said, "I have been working with the UConn School of Business to develop a conference that brings together provocative thinkers from different fields to share their perspectives and provide insight into some of the challenges business leaders face today."
One of those leaders is Walmart U.S. President and CEO Bill Simon '81, '88 MBA, who will deliver the keynote speech, "Leading in a Time of Crisis," at the April event. Other prominent speakers will also participate in discussions on how to lead a multi-generational workforce and ways of developing strategies for sustaining excellence.
In her remarks, President Herbst noted that the leadership conference will offer an opportunity to connect UConn's talented business school faculty, some of the University's most outstanding alumni, and a range of leaders from across various industries and communities in a forum, "where we can learn from one another about what it takes to excel as leaders in today's ever-changing business environment."
Joining Walmart as sponsors of the leadership conference are Virtus Investment Partners, Aetna, The Hartford Courant, Fox CT (Fox 61), Hartford Magazine, WTIC-AM 1080, WTIC-FM 96.5, and Lite 100.5 WRCH. The UConn Alumni Association is also a strong supporter of the initiative.
Representing the School of Business in her role as academic director of the Leadership Conference was Lucy Gilson, associate professor of management, who spoke about the school's commitment to being a globally recognized provider of exceptional managerial and business leadership. In her remarks she said, "Leadership is a most critical need in today's ever-changing business environment. This conference provides a unique opportunity for its participants to benefit from the expertise of our faculty, the skills and experiences of our alumni, and the knowledge of our business partners."
Today's announcement also marked the launch of the program's website, a comprehensive resource that includes a registration link, details on the schedule and speakers, and other useful features. The site also gives visitors an opportunity to join an email list to receive conference highlights, leadership resources, useful links, and other information.
Proceeds from the conference will be received by the UConn Foundation Inc., and will benefit Leadership Education at UConn's School of Business.