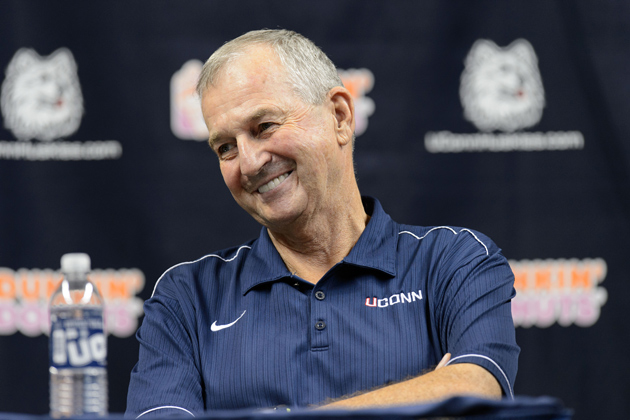 When men's basketball Coach Jim Calhoun announced his retirement on Sept. 13, UConn fans everywhere reflected on the 26 years of leadership he provided to the University, which includes three national championships, four Final Fours, 17 Big East championships and 873 wins.
For one group of fans, though, the historic moment also became a chance to honor the man and the program that gave them so much enjoyment for more than two decades.
At the UConn athletics fan website The Boneyard, a grassroots effort began that day to thank Coach through a group gift from website message board members.
They debated several options, including purchasing a billboard, advertising, donating a bust of Calhoun, and many others. With the help of the University of Connecticut Foundation, Gold, Orluk, and Partners and with guidance from Coach himself, the fans chose to make a group gift to support the Pat and Jim Calhoun Cardiology Center at the UConn Health Center.
Center director Dr. Bruce T. Liang identified a need for the group's philanthropy, which the coordinating members of the site estimated could be as high as $25,000. A cardiopulmonary bypass pump, used to act as a kind of temporary mechanical heart during surgeries, was quickly identified as a goal the group could rally around.
With that target in mind, and an online giving page created by the Foundation just for their effort, The Boneyard members got to work raising money in mid-October.
Ten days later, they reached their goal, far ahead of everyone's expectations, and then kept going. As of this writing, more than $31,000 has been donated by more than 160 members of the site, with several thousand dollars still expected as members' employers send in corporate matching gifts.
Calhoun says he is amazed by the fans' generosity.
"It's been an honor to have led this program through a great career, and I'm incredibly moved to see the fans at The Boneyard honor what UConn basketball has meant to them by donating in my name," Calhoun says. "That they are contributing to an issue so important to me personally makes it even better. I truly thank each and every one of them for their generosity today and their support through the years."
As gifts came in from donors of all ages and eras of UConn fans, several donors volunteered to tell their stories on the Foundation's website, aiming to persuade other members with their individual reasons for giving. Their efforts weren't unnoticed.
"It was inspiring to watch them rally around the Pat and Jim Calhoun Cardiology Center," says Liang. "It's not an exaggeration to say that lives are saved because of the support that private donors provide to the center every year. We can see it in new equipment, support for research, and in helping to educate the next generation of cardiology scientists, researchers, and practitioners. This gift is a great example of how donors can make a difference."
Having surpassed their $25,000 goal, the group has decided to name the Calhoun Cardiology Center as their preferred target for group giving this coming year. Many members have announced that, in honor of Coach, they plan to donate each time the UConn men win this season, and others are planning to create a team for the 2013 NBC Connecticut Jim Calhoun Cancer Challenge Ride and Walk, where the donors to the cardiology center will also meet Calhoun in person.
To make a gift in support of The Boneyard's efforts, please visit www.friends.uconn.edu/the-boneyard.