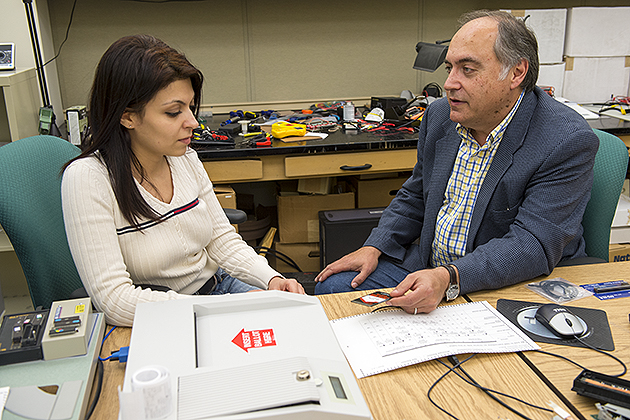 In the build-up to the 2012 elections, a group of UConn engineers has been hard at work ensuring that defective technology doesn't get in the way of accurate vote counts.
The UConn Voting Technology Research Center (VoTeR Center) analyzes data from AccuVote Optical Scanners (AV-OS), which are electronic ballot-counting systems. Computer science and engineering professor Alexander Shvartsman, director of the center, explains, "Ballots are auto-tabulated by the scan machines" and provide a voter-verified paper trail. This allows auditors to confirm the accuracy of each machine count.
While, according to Shvartsman, Connecticut is ahead of most other states in terms of auditing, there is always room for improvement. Hand-counting, which is the optimal way to verify ballots, can be labor-intensive and expensive. A project proposed by the VoTeR Center uses a projector and screen to display ballots for analysis, which increases the speed and accuracy of the audit. Four districts in Connecticut (yet to be determined) will pilot this project after the November election.
Another pilot that is currently underway involves helping the state move to newer technology with regard to the memory cards inside the voting machines. The memory cards contain specific information for each election, which is sent to polling locations across the state. When data loss occurs on these cards, it is generally caused by weak batteries on the cards. A new version of these cards, which was part of a pilot for the primary elections and will continue into tomorrow's election, does not require batteries for operation.
Shvartsman says that the VoTeR Center and Secretary of State's Office are working closely together to improve the overall voting and audit processes. The VoTeR Center team, in addition to Shvartsman, includes three other faculty members from the Department of Computer Science & Engineering, professors Aggelos Kiayias, Laurent Michel, and Alexander Russell. Also integral to the Center's success are research faculty member Suzanne Mello Stark, research associate Tigran Antonyan, and UConn students Seda Davtyan, Russell Jancewicz, Eugene Kovalev, Justin Neumann, and Peter Zafetti.
For more information, see this video from the School of Engineering: